Roland K. Blumberg Endowed Professor in Music: David Frego researches eurhythmics as PTSD treatment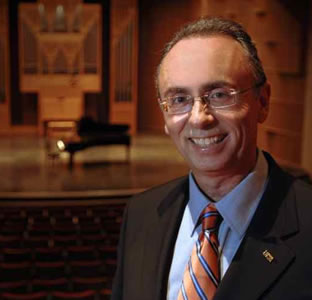 Share this Story
(Nov. 13, 2009)--A newcomer to UTSA, Professor David Frego became chair of the Department of Music in fall 2008, and is the first faculty member to hold the Roland K. Blumberg Endowed Professorship in Music. He leads a music department with more than 60 faculty members and 300 music majors earning both bachelor's and master's degrees.
UTSA recruited Frego from The Ohio State University, where he was associate chair of music in a tier-one music department. As an endowed professor, Frego is a nationally recognized scholar who joins the faculty and elevates the quality of research, creative activity and teaching for UTSA music students.
Frego has published book chapters, DVDs and articles in music education journals and journals for arts medicine. Though much of Frego's first year at UTSA has been spent getting to know the university and the community, he already is using the Blumberg endowment funds for start-up expenses and presentations at research conferences. Through these funds, he has acquired new software programs to convert and store qualitative research and new computer survey equipment.
A versatile musician, dancer, singer and educator, Frego is an internationally recognized expert in Dalcroze Eurhythmics, an approach to the performing arts that emphasizes rhythmic movement, aural (by ear) training and improvisation. He is one of only a handful of certified Eurhythmics instructors in the United States and the only one in Texas.
"The Dalcroze philosophy centers on the concept that the synthesis of the mind, body and resulting emotions is fundamental to all meaningful learning," Frego wrote in an overview of the Dalcroze Method for The Alliance for Active Music Making, which is on their Web site.
The endowment is one of several established at UTSA (the others are in architecture, biosciences and biology) by Roland K. and Jane Blumberg (deceased) of Seguin, Texas. Roland Blumberg earned a Ph.D. in geophysics from Harvard, and with his wife, Jane Blumberg, a graduate of the University of Texas at Austin, ran an oil production business in Seguin. The couple were strong supporters of public higher education in Texas. The fund was established in 2005.
"My father was a UT- and Harvard-educated mathematician and physicist," said Hilmar Blumberg, who lives in Seguin. "After these interests, his first love in the fine arts, by far, was music. And those who understand math or physics will know why."
Frego received a B.M. from Brandon University in (Manitoba) Canada and master of music in choral performance, master of music education and Ph.D. degrees from Florida State University. Besides his performance and teaching activities, Frego researches and applies eurhythmics for adults affected by terminal illnesses and post-traumatic stress disorders.