Holiday hours: dining, bookstore, shuttles, UTSACard, south garage, info booths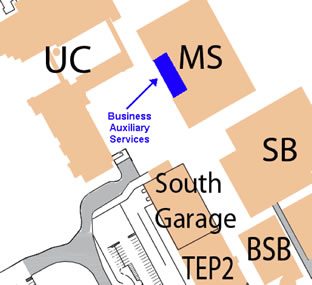 Share this Story
(Nov. 30, 2009)--The UTSA Office of Business Auxiliary Services announces the holiday schedule for December 15-Jan. 11 (see below).
Additionally, Business Auxiliary Services will move between Dec. 15 and 31 to new Main Campus offices in Multidisciplinary Studies Building Room 1.01.52. (See a map at left.) Details are to be announced.
UTSA parking permits are required at all times.
For more information, visit the Business Auxiliary Services or Parking and Transportation Web sites, or call BAS at 210-458-4003 or Parking and Transportation Services at 210-458-PARK (7275).
--------------------------
Dining services
Visit the ARAMARK Web site for holiday hours
Construction will begin in University Center on Chili's restaurant (former site of Tomas Rivera Center for Student Success)
Bookstore hours
Off-campus apartment shuttles
Normal service through Dec. 15, service resumes Jan. 11
On-campus shuttles
Normal weekday service through Dec. 15
Reduced service weekdays, 7 a.m.-5:55 p.m., Dec. 16-22, Jan. 4-8
No service to lots 11 and 13, Dec. 16-Jan. 10
No on-campus shuttles Dec. 23-Jan. 3 Shopping shuttle
No service Dec. 19, Dec. 26, Jan. 2; service resumes Jan. 9
Visitor information booths
Normal hours through Dec. 11
Open 7:30 a.m.-4:30 p.m., weekdays, Dec. 14-23, Jan. 4-8
Booths closed December 23-Jan. 10, regular hours resume Jan. 11
South parking garage
Normal hours through Dec. 18
Open 7 a.m.-7 p.m., (weekdays) Dec. 21-23, Jan. 4-8
Closed Dec. 23-Jan. 3, regular hours resume Jan. 11
UTSACard Office, University Center Room 1.02.20, Main Campus
Closed Dec. 23-Jan. 3, regular hours resume Jan. 4
Parking and Transportation Services, Physical Plant Building Room 1.200, Main Campus
Closed Dec. 23-Jan. 3, regular hours resume Jan. 4