Research in lab of UTSA's Richard LeBaron may help cure bone cancer and diabetes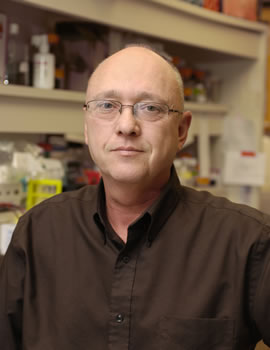 Share this Story
(Nov. 13, 2009)--Over the last 15 years, more than 70 UTSA students of varying levels have matriculated through the laboratory of biology professor Richard LeBaron, who studies the extracellular matrix of proteins found outside of cells. And, for the last 10 years, most of those students have become intimately familiar with a protein called BIG-H3, that theoretically may be useful in killing bone cancer cells.
BIG-H3, known formally as "transforming growth factor beta-induced protein," is found in many organs in the body. An extracellular protein, it is found outside the body's cells. In its natural state, BIG-H3 acts as an adhesive or a pathway to help cells travel to places where they are needed throughout the body.
However, research conducted in the 1990s suggested that BIG-H3 might be involved in other physiological actions in addition to helping cells move. It was hypothesized that BIG-H3 plays a role in triggering apoptosis, the body's process for destroying unwanted cells.
An expert in extracellular molecules, LeBaron was curious about the research. In the late 1990s, he began asking questions. Does BIG-H3 start apoptosis, or is it merely present during the process? Do BIG-H3 concentrations change during apoptosis and, if so, how? Which parts of the BIG-H3 protein are activated during apoptosis? That curiosity has driven LeBaron's laboratory for the last decade, and his team's deliberations have brought significant observations to light.
"Over the years, we have studied BIG-H3 very intently, and our research indicates that high levels of BIG-H3 trigger excess apoptosis, a natural cell death program," LeBaron said. "We also know that one of BIG-H3's ends, called the C-terminus, must be in a fragmented state for the cell death cycle to occur. We've even been able to go so far as to pinpoint that the fragmentation occurs in the last 69 amino acid stretch on BIG-H3's C-terminus, and within that stretch find the signal that promotes death in some types of cancer cells."
The LeBaron laboratory's research on BIG-H3 has been featured in scientific publications and at international scientific meetings over the years. Most recently in a Matrix Biology article, LeBaron presents research indicating that his team can induce BIG-H3 to kill bone cancer cells by raising the BIG-H3 concentration in the laboratory and forcing the BIG-H3 C-terminus to become fragmented.
"Because BIGH3 is found in many human tissues, we did not know what path our research would ultimately take, so we simply expect that the results or our experiments will guide us," said LeBaron.
LeBaron's recent work shows that BIG-H3 may be involved in other human diseases including health complications that arise from hyperglycemia. Collaborating with other UTSA and Univeristy of Texas Health Science Center at San Antonio investigators, his preliminary studies suggest that BIGH3 might be a significant clinical target. The LeBaron lab research offers hope to individuals suffering from cancer and diabetes.
"We have already been able to trick BIG-H3 into killing bone cancer cells in the laboratory by increasing BIG-H3's concentrations in vitro," said LeBaron. "If we can raise the concentrations of BIG-H3 in the body of a bone cancer patient like we can in the laboratory, we should be able to manipulate the body into killing its cancer cells."
BIG-H3 is not the only protein LeBaron studies. His laboratory studies a protein named lubricin that is found outside cells and lubricates joints.
"We have shown that lubricin is found in the temporomandibular joint (TMJ), the jaw joint that many people associate with lockjaw," said LeBaron.
More women than men have reported degenerative TMJ that is very painful and often causes restricted jaw movement. LeBaron's research shows that the lubricin gene might be regulated by estrogen. Moreover, his laboratory has evidence that estrogen causes the lubricin protein to stop lubricating.
"If we can prove this is the case, then it will open a number of new avenues by which TMJ degeneration can be treated, if not cured," LeBaron said. "The better we understand what they do in humans and how they work, the greater are our chances of helping treat and cure diseases. We are very excited about our work and where it is taking us."
An associate professor of cellular and molecular biology, LeBaron has served at UTSA for 15 years. He is a faculty member in the Department of Biology in the UTSA College of Sciences and the San Antonio Institute for Cellular and Molecular Primatology at UTSA. He has received continuous research support through National Institutes of Health MBRS/SCORE grants, private foundations and UTSA faculty research awards.