UTSA presents portrayal of Texas writer Katherine Anne Porter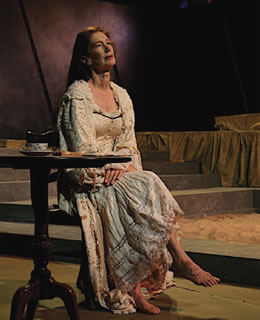 Share this Story
(Nov. 10, 2009)--The UTSA Friends of Shakespeare and the Department of English will present Pennylyn White in a one-woman performance, "Katherine Anne Porter: A Driving Desire," at 3:30 p.m. Tuesday, Nov. 17 in the University Center Retama Auditorium (2.02.02) on the UTSA Main Campus. The performance is free and open to the public.
A graduate of Northwestern University, White is an actress, writer and storyteller who has performed in many Broadway plays and worked three years with Second City in Chicago.
The show is a dramatized biography of the life and works of Porter, a Texas-born author (1890-1980), who was raised in San Antonio. Porter is recognized as one of the most important writers of short fiction in America.
In 1965, Porter's "Collected Stories" received the Pulitzer Prize and National Book Awards. Two years later, she was awarded the Gold Medal Award for Fiction from the American Academy of Arts and Letters and was nominated for the Nobel Prize.
Her books, "Flowering Judas," "Hacienda," "Noon Wine" and "Ship of Fools," are known for their exquisite crafting and powerful ironies. Three of her stories, "The Jilting of Granny Weatherall," "The Fig Tree" and "The Circus," were produced as films.
In addition to her writing career, Porter was a journalist, essayist and social activist who traveled extensively in Mexico and Germany and reflected upon the experiences of women in the American South, the Mexican Revolution and pre-Nazi Germany.
For more information, contact Mark Allen at (210) 458-5358.