UTSA honors students to interview for Rhodes scholarships Nov. 20-21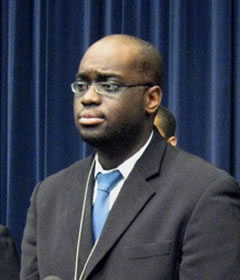 Share this Story
(Nov. 19, 2009)--Two students in the UTSA Honors College, Jonathan Nomamiukor and Carlos Castaneda, are regional finalists in the 2009 Rhodes Scholarships competition. The students are UTSA's first finalists in the Rhodes competition in more than 20 years. Nomamiukor and Castaneda will interview in Houston Nov. 20-21 for the chance to become Rhodes scholars-elect.
The Rhodes Trust will select 32 Rhodes scholars from across the nation to spend 2-3 years studying at Oxford University in England. Approximately 300 college seniors are selected as finalists from across the country. The two UTSA students will compete with 17 students in the Texas region.
Nomamiukor is a 2006 graduate of Bowie High School in Arlington. At UTSA, he is pursuing an English major and an African American studies minor. If he wins the Rhodes scholarship, he plans to pursue a master of philosophy degree in restorative justice. Nomamiukor's interest in restorative justice stems from his belief that the legal system can change lives. His service activities include several years of volunteer work for the Rape Crisis Center, Big Brothers/Big Sisters and Habitat for Humanity.
In spring 2009, he was selected as a UT System Archer Fellow and spent the semester in Washington, D.C., as an intern in the Office of Civil Rights at the Department of State. One of his projects there was to assist in writing a statement on equal opportunity employment and diversity that now hangs in all state department offices around the world. For the honors thesis he is writing under the direction of Bonnie Lyons, UTSA professor of English, Nomamiukor is using a testimonial genre and his own experience in volunteering for the Rape Crisis Center to write a story that encourages the improvement of interventions for victims and perpetrators of sexual violence.
Castaneda is a 2007 graduate of Health Careers High School in San Antonio. At UTSA, he is pursuing a political science major and a Spanish minor. If he becomes a Rhodes scholar, he plans to pursue a master of philosophy degree in development studies. His long-term goal is to do international work with immigrant communities. Castaneda also has a substantial record of leadership and service with medical mission work in Mexico with Los Quixotes and as president of the Toastmaster's organization. He is active with the League of United Latin American Citizens (LULAC) and the organization, Salvadorean Americans.
He has served as a Bexar County deputy registrar, is serving as an intern in the office of state Sen. Leticia van de Putte and writes columns on political issues for the bilingual newspaper, La Prensa. This fall, Castaneda is completing his honors thesis, "Mexico de Afuera: The Institute of Mexicans Abroad, Emigrant Communities and Transnational Agencies," under the direction of Francisco Durand, UTSA professor of political science and geography. In spring 2010, Castaneda will complete his final semester at UTSA in Washington, D.C., as a UT System Archer Fellow. He hopes to intern at the Brookings Institution or a similar think tank.
To date, the only UT System institution with a Rhodes scholar is the University of Texas at Austin. In 1984, Margaret Martinovich was the first UTSA student to be offered a Rhodes interview.
Nomamiukor and Castaneda are graduates of the UTSA Summer Law School Preparation Academy and both will graduate from UTSA in spring 2010 with highest honors and leadership honors in the Honors College. They were prepared for the Rhodes competition by Ben Olguin, UTSA associate professor of English, who became the Honors College assistant director of national scholarships and fellowships in 2007.