Rep. Ciro Rodriguez conducts roundtable with veterans who are UTSA students, staff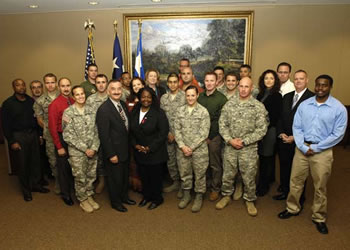 Share this Story
(Nov. 13, 2009)--In recognition of Veteran's Day, U.S. Rep. Ciro Rodriguez visited the UTSA Main Campus on Nov. 11 to speak with a large group of veterans who also are UTSA students and staff. In a roundtable format, Rodriguez asked for feedback on education benefits and any other military-related issues the vets wanted to discuss.
One issue discussed was the new G.I. Bill, which went into effect Aug. 1 and provides veterans of the Iraq and Afghanistan wars with enough aid to attend the most expensive public college in their states.
The veterans offered comments on the state of the Veterans Administration system and made suggestions on what improvements could be made. Rodriguez listened attentively as each member addressed his or her personal experiences with the V.A. With complete military professionalism, the veterans addressed concerns, expressing frustration without anger and communicated optimism while requesting accountability.
"It's important for us to get feedback from students that are also veterans," said Rodriguez. "I'm glad to be able to get the opportunity to listen and promise that I will come back and have another sit-down early next year to continue the communication with the veterans here at UTSA."
Rodriguez, who serves on the House Committee on Veterans Affairs, prides himself on his strong devotion to military members and their families. He said it's important for veterans to have the support they need when it comes to education, health care and their families.
"Today is a day about giving thanks to those veterans who have served our country and also recognize those who have lost their lives," said Rodriguez. "I just want to ask everyone who knows a veteran to give them a call and say thanks for your service."
UTSA financial aid officials also attended the meeting and encouraged veterans to apply for federal aid in order to be fully aware of all types of assistance for which they are eligible. With some exceptions in veterans' state education benefits, veterans' federal education benefits are no longer taken into account as part of the need-based aid assessment.
Veterans can apply beginningJan. 1 by visiting the Federal Aid Web site.
For more information, visit the UTSA Financial Aid Web Site.