UTSA achieves 91-percent participation in state charitable campaign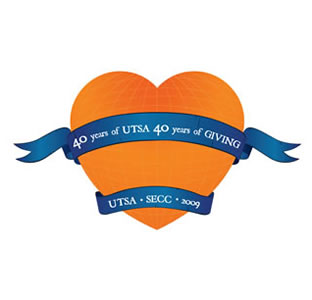 Share this Story
(Nov. 19, 2009)--UTSA President Ricardo Romo announced at a Nov. 18 reception that UTSA reached its 91-percent participation goal and raised $266,077.11 in the 2009 State Employee Charitable Campaign (SECC). Romo presented a check to Lyndon Herridge, executive vice president and CEO of United Way of San Antonio, who said he knew UTSA's goal would be reached even in the slow economy. The funds will help support organizations in San Antonio and surrounding counties.
In 2008, UTSA had the highest SECC participation among the 19 Texas four-year public universities with more than 1,000 employees. UTSA's 2008 SECC participation rate was 76 percent of more than 3,200 full-time employees who helped raise $228,302. It's anticipated that UTSA will be a record-breaker again this year.
The 2009 campaign featured the third annual "UTSA's Got Talent" show presented to SECC contributors, "fun-raisers" across the university where refreshments were sold in various offices, a book sale and a silent auction.
"Congratulations to all of you who have worked so hard to make this year's SECC such a tremendous success," said Romo. "Ninety-one percent participation is amazing. The campaign's success clearly indicates how deeply we care about the community where we live and work.
"In these tough economic times, you found a way to not only donate, but to encourage others to follow your lead," he added. "It takes a great team to accomplish what this group has attained during this campaign and your university is proud of you."
Romo thanked the campaign tri-chairs, Kelly Kam Watson, executive assistant in the Office of the Vice President for Research; Joe Rubio, Downtown Campus director of facilities; and Barbara Millis, director of the Teaching and Learning Center, who "set the bar high."
Claudia Garcia, assistant director of the Academy for Teacher Excellence in the College of Education and Human Development, was announced Nov. 6 as the winner of two Spurs tickets in a drawing from the names of all who donated to SECC. In a letter to Romo, she expressed thanks and surprise at winning the tickets and said contributing alone would have been satisfying.
The SECC committee members and area champions were treated Wednesday evening to the reception, refreshments and a screening of "2012" at the Santikos Palladium theater.