UTSA Honors College associate dean awarded UTSA Alumni life membership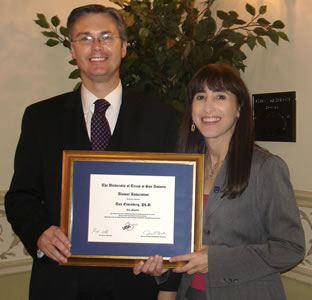 Share this Story
(Dec. 2, 2009)--The UTSA Alumni Association recently honored Ann Eisenberg, UTSA Honors College associate dean and associate professor of psychology, with a life membership in the UTSA Alumni Association. The surprise announcement was made at the annual Life Member Salute at Oak Hills Country Club.
Rob Killen, Alumni Association president, made the announcement, citing Eisenberg's work with students in the Honors College that contributes greatly to their positive attitudes about the institution when they graduate and become alumni.
Killen described Eisenberg as an exemplary faculty member who keeps the association apprised of students' new addresses, e-mails and career changes, which helps maintain communication with alumni and enables the association to highlight their progress and success in careers and graduate programs. Killen noted that many Alumni Association scholars are members of the Honors College.
The UTSA Alumni Association recognizes community leaders and faculty and staff for extraordinary service to the association via the life membership awards, which are presented periodically. Recipients include UTSA President Ricardo Romo, UTSA Professor Harriett Romo, Tom Frost (businessman and UTSA supporter), UTSA Professor Rosalie Ambrosino and Patricia Graham, UTSA executive director of special events. Recipients are identified with surprise announcements at the annual Life Member Salute.