Deborah Kaufman: UTSA Head Start Summer Institute success story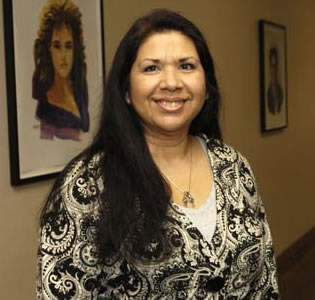 Share this Story
(Dec. 18, 2009)--For 50-year-old Deborah Kaufman, the end of the tunnel her advisers told her about is near, and she now sees the light ahead. Kaufman will walk the stage at 5 p.m., Saturday, Dec. 19 and graduate cum laude with a bachelor's degree in Mexican-American studies from the UTSA College of Education and Human Development.
Her journey began in 2005, when after working several years as a Head Start teacher with 3 to 5 year olds in San Marcos, and raising two children with her husband, Kaufman decided to enroll in UTSA's Head Start Summer Institute.
A federally funded program, Head Start provides learning development for low-income children from birth to five years of age. Under the No Child Left Behind Act, all Head Start teachers and staff are required to earn their degrees.
In 2002, with a new government mandate in place, UTSA sociology professor Harriett Romo founded the new institute with a grant from the U.S. Department of Health and Human Services. The institute allows area Head Start teachers to take classes in the summer and work their way toward completing associate or bachelor's degrees.
The program, books and student housing are provided free-of-charge to participants. The curriculum includes early childhood and Mexican-American studies. Over the last four years, Kaufman commuted from San Marcos to attend the three-week summer sessions in the first and third years, and the longer six-week sessions in the second and fourth years.
"It was a wonderful program and served as a real confidence builder," said Kaufman. "I really liked it because it just felt so comfortable."
With her associate degree courses behind her, she enrolled at UTSA and completed the remaining core courses to earn her bachelor's degree in Mexican-American studies.
"Deborah has been a very successful, highly motivated student and a role model for other Head Start teachers," said Romo. "She demonstrated that it is possible to juggle family, work and school successfully."
In addition to those responsibilites, Kaufman has taken care of her father, who suffered two strokes over the last three years.
After working with young children for 11 years, Kaufman looks forward to changing gears and working with adults teaching English as a second language.
UTSA has provided 264 Head Start teachers and staff the opportunity to return to college and continue working to obtain a degree. Over the last nine years, 3,168 college credit hours have been earned by summer institute participants. The 2010 summer session orientation begins May 15.
The UTSA Head Start Summer Institute is funded by the U.S. Department of Health and Human Services, Administration for Children and Families. Partnerships are established with the City Of San Antonio Department of Community Initiatives, San Antonio College, St. Philips College, AVANCE, Edgewood I.S.D, San Antonio I.S.D, Region 20, Family Services, Community Action Inc. and the Texas Migrant Council Inc.
For more information, call 210-458-2692 or visit the UTSA Head Start Summer Institute Web site.