UTSA honors skilled workforce with National Employee Learning Week Dec. 7-11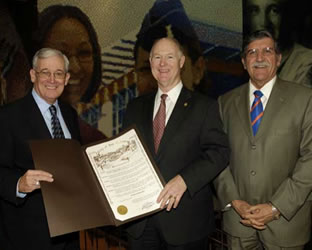 Share this Story
(Dec. 3, 2009)--UTSA will celebrate National Employee Learning Week Dec. 7-11 to recognize the importance of lifelong learning and the vital connection between a skilled workforce and organizational success.
San Antonio Mayor Julian Castro signed a proclamation recognizing UTSA's commitment to employee learning. At a Dec. 1 ceremony on the Main Campus, District 8 Councilman W. Reed Williams presented the document to Ricardo Romo, UTSA president, and Kerry Kennedy, UTSA vice president for business affairs. The document also highlights the contributions of the training and development division of the UTSA Office of Human Resources.
Studies show a direct correlation between continuous employee development and an organization's ability to achieve its goals. UTSA offers employees many classes in technical skills as well as in professional development. This process of continuous learning and improvement contributes to UTSA's pursuit of becoming a premier public research institution. Additionally, the HR Training and Development staff recognize the indispensable contribution of more than 80 subject matter experts who teach specialized courses at UTSA.
The American Society for Training and Development (ASTD) is the national organizer for Employee Learning Week. ASTD is the world's largest association dedicated to workplace learning. This year marks the sixth annual national celebration.
>> For more information, contact HR Training and Development at 210-458-4658.
>> Learn more information about UTSA Employee Learning Week.
-----------------------------
How can you be part of National Employee Learning Week?
UTSA HR Training and Development services
Classroom training for the UTSA community (faculty, staff and students employed by UTSA)
Online courses
Customized workshops and retreats
Assessments and consultation