UTSA volleyball team cooks breakfast for children at Ronald McDonald House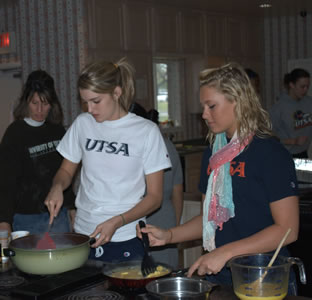 Share this Story
(Dec. 7, 2009)--The UTSA volleyball team did its part Dec. 2 to share the holiday spirit by preparing and serving breakfast at the local Ronald McDonald House. The national organization provides comfort and care to seriously ill children and their families
The morning's menu included scrambled eggs, sausage, biscuits and gravy, orange juice, milk and coffee, and the meal was served to 25 people.
"It's so important that we expose our players to all walks of life and help them realize how fortunate they are," said Laura Neugebauer-Groff, UTSA eighth-year volleyball head coach. "Events like today show them what kind of impact they can have on the lives of those they help and the world when they graduate."
Senior captain Stefanie Robbins said the experience not only was important to every member of the team, but it was entertaining to watch her teammates take turns cooking.
"One of the more enjoyable things about being a member of the team is the community service projects we do every year," Robbins said. "It is a great opportunity for us to give back to those less fortunate and it shows us how lucky we are. Coach Groff stresses the importance of community service and it is something we really enjoy doing. The best part about today was seeing my teammates try to cook, but I think we put together a pretty good meal."
It was another in a long list of community service projects in which the Department of Intercollegiate Athletics participates. One of the programs, Roadrunners For Education, fosters positive attitudes among local elementary, middle and high school students, while allowing UTSA student-athletes to serve as role models and give back to the San Antonio community that supports Roadrunner athletics. A major goal of UTSA Athletics is to develop each student-athlete into a productive citizen away from the playing field.