Student Affairs staff members celebrate season by adopting families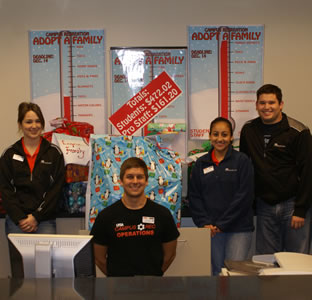 Share this Story
(Jan. 5, 2010)--Eighteen offices within the UTSA Division of Student Affairs adopted 24 families and five seniors this holiday season. Three families were adopted through the UTSA Child Development Center and the other families and seniors were adopted through the Family Service Association Adopt-A-Family program.
Each office put its own spin and tradition into the service project. Campus Recreation created a challenge between student workers and professional staff to raise funds for the three families they adopted, and the students came out way ahead donating $474.02.
In other departments, each staff member adopted one family member and shopped for the needs and wants of the adopted family members. Many offices donated canned goods and gently used clothing in addition to new gifts. The women's basketball team and Ambassadors-in-Training also adopted families, affording our student leaders the opportunity to give back.
Gage Paine, UTSA vice president for student affairs, said, "It's wonderful to see so many offices participate in this program. We often say UTSA makes a difference for the greater San Antonio community, and this is one way we do? a small thing in many ways, but so important for the families and individuals adopted."
Fourteen volunteers and eight packed cars and trucks delivered gifts to The Neighborhood Place on Dec. 17. The Family Service Association coordinated the adoption of more than 700 families in our community this year. This is the second year of the Student Affairs Adopt-a-Family service initiative.
To receive a monthly e-mail with service opportunities, e-mail engaged@utsa.edu or visit the Inclusion and Community Engagement Center Web site to learn more about UTSA's volunteer efforts. For more information about the Family Service Association and the Adopt-a-Family program, visit family-service.org.