Faculty and staff: Nominate students for UTSA Ambassadors program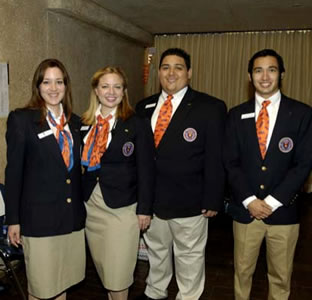 Share this Story
(Jan. 7, 2010)--UTSA faculty and staff are invited to submit nominations for the UTSA Ambassadors program. Nominees must be students who have a strong desire to learn about and represent the university and are committed to service, leadership and integrity.
>> Submit up to five student names (including Banner ID) by completing the nomination form. Forms must be returned by Friday, Jan. 22 to the Special Events Center, University Center Room 1.224) or by fax to 210-458-6116.
Established in 1988, the UTSA Ambassadors program consists of a select group of more than 60 student leaders. UTSA Ambassadors act as student hosts at campus events, university sponsored conferences, and community and alumni functions. The Ambassadors provide more than 5,000 service hours to the UTSA community each year.
You may have seen the Ambassadors in action on campus at the Fall Convocation, information tables at the beginning of each semester, the fall and spring commencement ceremonies, or giving campus tours for prospective students, parents and other campus visitors. Other annual Ambassadors events include the Etiquette Dinner, the Amber Dinner, the Ambassador Banquet, and fall and spring retreats.
For more information, contact Pat Graham, Ambassadors adviser, at 210-458-6110.