American Society for Cell Biology excellence in teaching award: Professor Manuel Berriozabal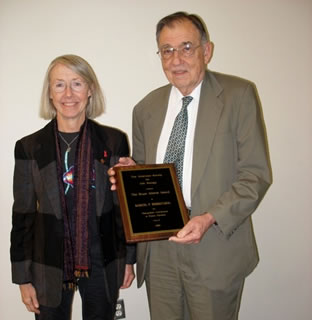 Share this Story
(Jan. 27, 2010)--UTSA mathematics professor Manuel P. Berriozabal was honored by the American Society for Cell Biology with the Bruce Alberts Award for Excellence in Science Education. The award recognizes the contributions Berriozabal has made to prepare minority junior high and high school students for careers in science, technology, engineering and mathematics (STEM) though the San Antonio Prefreshman Engineering Program (SAPREP), which he established at UTSA 30 years ago.
PREP evolved into a statewide outreach initiative, TexPREP, which has received more than $40 million in financial aid and in-kind support from public and private entities at the local, state and national levels. In Texas, it operates in 13 cities on 21 college campuses and has served more than 25,000 students, most of whom are Hispanic. In 1996, in collaboration with the Hispanic Association of Colleges and Universities, NASA funded the Proyecto Access PREP program, based on Berriozabal's model. That program operates in four cities outside of Texas.
"The Bruce Alberts award recognizes individuals who have made impactful and sustained contributions to science education," said George Perry, dean of the UTSA College of Sciences and Berriozabal's nominator. "For 30 years, Dr. Berriozabal has been working to improve educational access to underrepresented students interested in pursuing science careers. His work speaks for itself. What started in San Antonio is now a highly successful nationwide program."
"Thanks to the many years of its dedicated and competent faculty and staff support from its benefactors, PREP is recognized as an intellectually challenging, quality educational program which prepares middle school and high school students to excel in college and to successfully pursue careers in science, engineering and other professional areas," Berriozabal said. "I am very proud of our PREP graduates whose leadership and contributions are helping build a better society."
Berriozabal and PREP have garnered wide recognition for providing underrepresented minorities access to careers in science and engineering. Most notably, in 2004, TexPREP was cited by the congressionally mandated BEST (Building Engineering and Science Talent) project as one of 20 programs nationally to increase the diversity of woman, underrepresented minorities and persons with disabilities in the nation's technical talent pool.
PREP also has been recognized by the U.S. Department of Labor, U.S. Department of Energy, U.S. Department of Education, National Latino Children's Institute, Texas Senate (twice) and the 2000 report of the Texas Governor's Special Commission on 21st Century Colleges and Universities, among others. In 2007, Berriozabal received one of three inaugural Innovations in Education awards from the University of Texas System Chancellor's Council.
-------------------------------
Founded in 1960, The American Society for Cell Biology (ASCB) is a leading professional organization for cell biologists and scientists in related disciplines. Its nearly 10,000 members hail from more than 60 countries, including the United States. Together, they promote scientific research by providing training and development opportunities for students and young researchers. The organization also keeps the Congress and the public informed about the importance of biomedical research.
Bruce Alberts, a noted biochemist, was president of the National Academy of Sciences from 1993 to 2005 and has worked diligently to improve science education. He is editor-in-chief of Science magazine.