UTSA debate team ranks sixth in nation among 250 institutions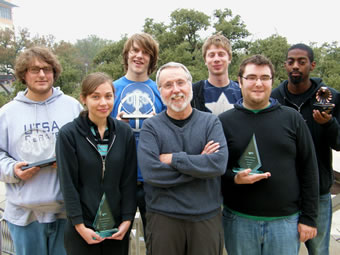 Share this Story
(Jan. 28, 2010)--Roadrunner debaters had a great holiday break, competing in two back-to-back tournaments at the University of North Texas (Denton) and UT Dallas. By the end of six days of debate, UTSA was ranked sixth in the nation among more than 250 college and university debate teams.
UTSA leads debate powerhouses such as Dartmouth, Cornell, Oklahoma, Harvard, Michigan State, Wake Forest, University of Kansas, U.S. Military Academy, UT Austin and Vanderbilt. At the close of the fall 2009 semester, UTSA was ranked 11th nationally.
During the break, debaters Andy Montee and Chris Thomas placed fourth in the championship division at the University of North Texas, defeating teams from Kansas State, Binghamton, Emory, Emporia, Baylor and Trinity. UTSA novices Jessica Mendez and Emil Calhoun beat teams from Kansas State, Richmond and Rochester, placing second overall in the tournament.
At UT Dallas, Montee and Thomas placed fifth among 144 teams, winning over teams from Samford, Binghamton, Baylor, Emory and Trinity. Junior Division debaters Austin Montee and Tyler Colwell won their division by besting debaters from North Texas, Richmond, Binghamton and Wyoming. UTSA novices Mendez and Calhoun also placed first by beating University of Florida in the final round.
Individually, our debaters did well. In Denton, Andy Montee placed ninth and Chris Thomas came in eighth among all speakers. Jessica Mendez won the fourth-place speaker award in the Novice Division. In Dallas, Andy Montee placed 19th and Chris Thomas placed 13th among 288 debaters. Austin Montee placed seventh in the Junior Varsity division.
Five more tournaments remain in the 2009-2010 season. UT Austin, which draws a large national field of teams, is Feb. 5-8, followed by four regional and national championship tournaments.