Business Auxiliary Services consolidates offices in new facility on Main Campus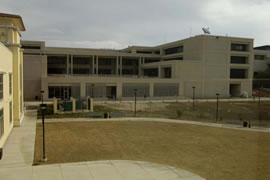 Share this Story
(Jan. 21, 2010)--UTSACard, parking and transportation services offices now are consolidated in a newly constructed space in Multidisciplinary Studies Building Room 1.01.52 on the Main Campus. The new office is more customer-friendly with one-stop convenience for UTSACard and parking services.
The new space also houses Business Auxiliary Services staff members who manage UTSA transportation and provide contract management for the food services, bookstores and vending.
Located opposite the new section of the University Center, the office was constructed in a formerly landscaped area surrounded on three sides by the MS Building.
For more information, visit the UTSA Business Auxiliary Services Web site or call 210-458-4003.