UTSA Community Connection site has comprehensive event lists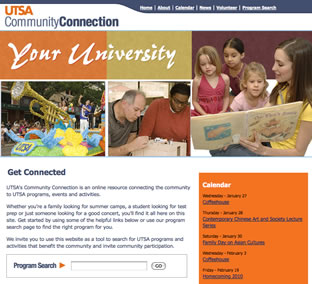 Share this Story
(Jan. 27, 2010)--To provide a one-stop events and program information site for UTSA visitors and the university community, the UTSA Office of P-20 Initiatives has created the UTSA Community Connection Web site. As part of the UTSA mission of community outreach and engagement, the site has a comprehensive listing of educational programs, along with recreational, entertainment and athletics events at the UTSA Tri-campuses.
Belinda Saldana, director of community outreach in the Office of P-20 Initiatives, worked over the last year with administrators across the university to identify events and programs that aid UTSA's strategic plan for community engagement, and they are featured on the new Web site.
"The Community Connection Web site offers site visitors information on many programs, lectures, concerts, sporting events and seminars that are open to the public," said Saldana. "As UTSA continues to work toward national research university status, we will count on UTSA program administrators to continue to provide us with updated information on important educational programs and events. The registration and login procedures are very easy to navigate."
For more information, call Belinda Saldana at 210-458-2904 or visit the UTSA Community Connection Web site.