'RACE: Are We So Different?' exhibit explores issues of race, racism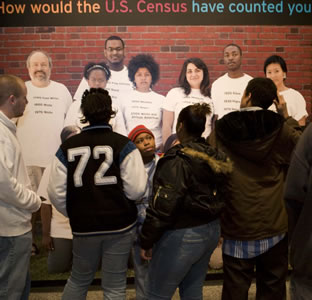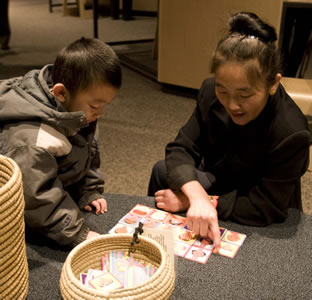 Share this Story
(Jan. 20, 2010)--The Institute of Texan Cultures will confront the issue of race and racism in the United States when the "RACE: Are We So Different?" exhibit opens Jan. 23 in the new traveling exhibits gallery. Running through May 16, the exhibit will include displays, educational materials, activities for children and a moderated roundtable discussion.
>> VIDEO: "Does race really exist?" from "San Antonio Living," WOAI-TV (in "Watch Living" section at site)
"RACE" is part of a public education project from the American Anthropological Association and Science Museum of Minnesota and funded by the Ford Foundation and the National Science Foundation. In addition to the exhibit, the initiative includes a Web site and conferences to share research and information with the public.
The Institute of Texan Cultures was founded in 1965 and opened for San Antonio's HemisFair, April 6, 1968, two days after the assassination of civil rights leader Dr. Martin Luther King Jr. Racial tensions and institutionalized segregation were part of everyday life.
"The Institute of Texan Cultures was established to tell the stories of the many cultures that settled and established the state of Texas," said Tim Gette, the institute's executive director. "This type of museum, dedicated to diverse cultures and people, had never been conceived before. Through the 'RACE' exhibit, we continue the conversation on race and racism, which are still felt throughout the United States."
"Race is an important part of the American story," says Robert Garfinkle, program director for special projects at the Science Museum of Minnesota and a guiding force in the creation of the RACE exhibit. "This exhibit gives visitors the opportunity to look at the way race touches our lives and the lives of the generations that came before us. They can explore the way they see themselves and others and see that all of our lives are affected by race and racism, both in overt and subtle ways."
The exhibit has three components:
Science: Visitors will discover that human beings are more alike than any other living species, and no one gene or set of genes can support the idea of race.
History: Ideas about race have been around for hundreds of years, and they have changed over time. This section demonstrates that throughout American history, economic interests, popular culture, science, politics and the struggle for power have played a role in shaping our understanding of race.
Everyday experience: Though race may not be a real biological concept, it certainly is real, both socially and culturally. Visitors will explore the personal experiences of race in our schools, neighborhoods, health care systems, sports and entertainment industries, and more.
"'RACE' is a powerful exhibit experience," said Garfinkle, "We hope its content will challenge our community to increase the quantity -- and the quality -- of their conversations about race and racism and the experiences they've had in their lives."
Highlights of the exhibit include "Who's Talking?," which challenges visitors to match voices they hear with people in photos based on speech patterns and inflection; "The Colors We Are," which allows visitors to scan their skin and watch their shade appear in a mosaic with chips from dozens of other visitors; "An Exploration of the United States Census," showing how perception of race has morphed throughout American history according to social, economic and political forces; and "Living With Race Theater," a first-person interpretation that lets visitors hear and respond to people talking about their experiences with race and racism.
"RACE" will include a race forum, a moderated roundtable allowing guests to express their perceptions of the exhibit. Guests can sign-up at the Institute of Texan Cultures Web site.
"Participants can expect an open, honest, non-confrontational chance to share their experiences and learn from others with different perspectives in an attempt to understand how race perceptions affect us all," said moderator Matthew Anderson, an educational specialist at the institute. "I feel very strongly that this exhibit and the programs, such as the race forum, have the potential to make a positive change in our community."
Today, Texas is a unique frontier on race relations as a "minority-majority state." The exhibit will include a Texas Connections display that highlights important events in race relations in Texas. The exhibit also is an opportunity to draw on the expertise of UTSA professors. Professors from the sociology and anthropology departments will give free presentations on various racial topics that affect the San Antonio community from 6:30-to 8 p.m., Feb. 25, April 8 and April 22.
In a joint venture with the YWCA, the Institute of Texan Cultures will offer visitors the opportunity to "Take a Stand Against Racism" by adding their signatures to a wall bearing the YWCA's pledge to treat all people with dignity, to open their hearts and minds to new perspectives and to embrace the richness of diversity.
The Institute of Texan Cultures is at the UTSA HemisFair Park Campus, 801 E. Durango Blvd., a short distance from the Alamo and the River Walk. Regular hours are 9 a.m.-5 p.m., Monday-Saturday; noon-5 p.m. Sunday. Admission is $8 for adults (ages 12-64); $7 for seniors (ages 65+); $6 for children (ages 3-11); free with membership, UTSA or Alamo Colleges identification.
The Institute of Texan Cultures mission is to engage lifelong learners in the understanding and celebration of Texas cultural heritage. The 182,000-square-foot complex features 65,000 square feet of interactive exhibits and displays that tell the stories of Texans.
For more information, call 210-458-2300 or visit the Institute of Texan Cultures Web site.