UTSA presents 'Relative Distances' ceramics exhibit at UTSA Satellite Space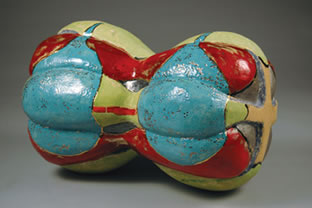 Share this Story
(Jan. 5, 2010)--The UTSA Department of Art and Art History will present the exhibit, "Relative Distances," Jan. 7-24 at the UTSA Satellite Space in the Blue Star Arts Complex at S. Alamo and Probandt streets. Free and open to the public, the exhibit will feature work by guest ceramics artists from across the nation who take a sculptural approach to the medium.
>> An opening reception is 6-9 p.m., Thursday, Jan. 7. Normal gallery hours are 6-8 p.m., Thursday, and noon-6 p.m., Friday-Sunday, or by appointment. For an appointment, contact Diana Roberts, gallery coordinator, at 210-212-7146 (gallery) or 210-458-4391 (Department of Art and Art History).
Curated by Ovidio Giberga, UTSA assistant professor of ceramics, the work in "Relative Distances" is centered on the theme that geographic distances become a relative measure when considering other influences on our lives such as culture, aesthetics or environment. The exhibition showcases works of four professional ceramic artists, all recent arrivals to San Antonio from different parts of the country: Paul Northway (Montana), Wesley Harvey (Lubbock), Ryan Takaba (Hawaii) and Jennifer Ling Datchuk (Ohio).
The common element is that each artist takes a sculptural approach to ceramics. In a range of approaches, the works of the artists reveal traces of influence that may challenge or affirm our relative positions and perspectives.
The UTSA Satellite Space is the off-campus gallery of the UTSA Department of Art and Art History. Throughout the year, exhibitions are devoted to works by UTSA graduate students as well as nationally recognized professional artists. Since its first exhibition in 1993, the gallery has become one of San Antonio's most respected venues for challenging contemporary art.