UTSA researchers win $9.2 million in stimulus funds in 2009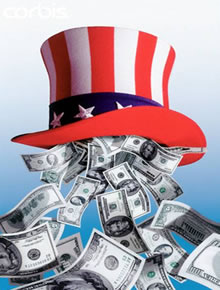 Share this Story
(Jan. 19, 2010)--UTSA announced today that it received $9.2 million in stimulus funding for scientific research and university recruitment during 2009. The majority of the funding, which was from the National Institutes of Health and the National Science Foundation, will support researchers in the UTSA College of Sciences and College of Engineering.
"UTSA is in a race with six other schools to reach Tier One research status, so the opportunity to compete for stimulus funding couldn't come at a better time for us," said Robert Gracy, UTSA vice president for research.
The American Recovery and Reinvestment Act of 2009, better known as the stimulus bill, is an economic recovery package adopted to help states stabilize budgets and stimulate economic growth. The bill allocates approximately $111 billion toward infrastructure and science including approximately $21.5 billion through the National Institutes of Health (NIH) and other federal agencies for scientific research and development projects.
--------------------------------
UTSA's 2009 stimulus funding will support the following 22 research and recruitment initiatives:
Conformations and interactions of insect olfactory receptor proteins, $209,630
Research will investigate the purpose and function of four different parts of an insect pheromone receptor's structure. Findings will reveal how pheromones can attract beneficial insects or repel harmful insects to protect the food supply and control insect-borne diseases.
Candida albicans biofilm dispersion as a key step during candidiasis, $216,750
Research will look into how the fungus Candida albicans forms biofilms and causes yeast infections.
CAREER: Contingent static analysis for dynamically composed systems, $425,000
Research is about new static analysis techniques that will result in the development of faster and safer computer programs.
II-New: Enhanced parallelization for high performance computing, $227,178
Research will establish a cluster for high-performance computing to increase the execution performance of scientific applications.
Decarbonoxylative allylic amidation: methods and synthetic application, $390,000
The chemistry research will contribute to the development of more effective medications to treat cancer and HIV.
Post yield behavior vs. bone quality, $330,574
Research will study the mechanism that occurs at the nano/molecular level after bone begins to deform and structurally fails and will aid understanding of how that process causes bones to become increasingly fragile.
Modularly designed organocatalysts for asymmetic reactions, $269,097
The chemistry research will help develop medications that would retain their effectiveness when patients are prescribed only half the regular dosage.
Integrating high performance computing in research and education for simulation, visualization and real-time prediction, $5,000,000
Funding will establish a supercomputing center for interdisciplinary, computer-based research, education and training. The center will help establish a recruitment pipeline for engineering students of all levels from high school to Ph.D.
Plant root templated geotextiles, $354,478
Scientists will inject living plant roots with novel plastic polymers to develop synthetic root systems that reinforce soils.
A combined biochemical, molecular and computational approach to understanding the regulation of gibberellin biosynthesis, $150,000
This funds a study of the genes responsible for the biosynthesis of plant hormones called gibberellins, which affect a plant's life cycle from seed germination to flowering and seed production.
A new strategy for learning highly similar concepts, $125,416
Research will test the effectiveness of a strategy called differential-associative processing to learn pairs of highly similar concepts.
Aging, improving prospective memory, and a formal model, $143,961
Research will focus on improving prospective memory in young and older adults.
Mechanism of steroid resistance in EAE/MS, $105,131
Funding will help develop biomarkers that monitor the effectiveness of glucocorticoid treatment and the development of autoimmune disease resistance.
Bacterial proteins containing novel iron sites, $22,600
The research is about the structure, function and catalytic mechanisms of bacterial iron enzymes that scavenge toxic oxygen and nitric oxide molecules, which are toxic to these microbes.
Computational discovery and analysis of community structures in biology networks, $124,117
Research will develop computer programs to better understand the genetic networks of complex diseases, such as diabetes and cancer.
Recruitment of new stem cell biologist, $316,750
Funds are for a new tenure-track assistant professor specializing in stem cell research to support the UTSA Institute for Cellular and Molecular Primatology and Department of Biology.
Crime Analysis Consortium: Building capacity in Bexar County, Texas, $371,522
Funding will help conduct data-driven crime analyses across a consortium of Bexar County, Texas, law enforcement agencies and produce processes and centralized databases that will better direct law enforcement resources.
Federal work-study, $266,452
A federal work-study student employee will assist in providing need-based financial aid to students.
Additionally, UTSA teamed with the University of Texas Health Science Center at San Antonio on four projects. They include:
Cell model for KSHV infection and genetic manipulation, $53,183
Research will define the functions and molecular mechanisms of microRNA in Kaposi's Sarcoma-associated Herpes Virus during replication.
Diabetes: Implant integration, success and benefit, $44,643
Research will analyze pentosidine concentrations in bone samples.
Partnership to address physical activities among low-income Latino adolescent girls, $15,624
Research will identify barriers to physical activities in Latinas and develop effective strategies to promote participation in physical activity.
Partnership to address physical activity among low-income Latino and adolescent girls, $77,619
Work will include the development, deployment and maintenance of the project's cell phone service to promote Latina health and connect youth to community resources.