UTSA teaching assistants honored for commitment to teaching excellence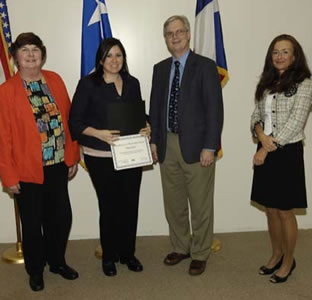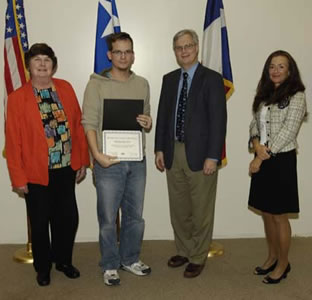 Share this Story
(Jan. 4, 2010)--One hundred forty-five UTSA teaching assistants were honored for their commitment to teaching excellence at a Dec. 10 reception and ceremony. For their work during the fall semester, they earned a Certificate in College Teaching administered through the UTSA Teaching and Learning Center at the request of the Dean's Council.
The certificates were presented to the TAs by John Frederick, UTSA provost and vice president for academic affairs; Dorothy Flannagan, dean of the Graduate School; and Barbara Millis, director of the Teaching and Learning Center (TLC).
"These exemplary students, including 17 receiving certificates with distinction, worked hard to achieve this recognition," said Millis. "They attended a three-day orientation and training in August and then completed follow-on activities. They also participated in at least six hours of workshops, submitted reflections on their experiences and conducted observations of both a fellow TA and a faculty member, providing reflections on what they learned."
Frederick commended the program as an important addition to UTSA, noting that most faculty members enter the classroom without training as TAs. He noted that he took advantage of a similar program at another university, which greatly aided him in professional growth and augmented his teaching skills.
The UTSA TAs were mentored by 10 University Teaching Fellows (UTFs). Funded by the Office of the Provost, the fellows work on personal professional development in order to better serve the university. The fellows mentored TAs working on the certificate though a follow-on Blackboard program, and worked on two special projects involving classroom observations. For the biology department, they observed recitation sections taught by fellow TAs. To support the Minnie Stevens Piper award process, they each observed two nominees and provided written narratives in support of their candidacies.
All Ph.D candidates, the fellows come from a variety of departments. They are: Sreerenjini Chandrasekharan (physics and astronomy), Laura Ellis-Lai (English), Yifeng Guo (computer science), Hsiu-Chen Hsu (bicultural-bilingual studies), John Joseph (civil and environmental engineering), Rebecca Joy (chemistry), Lynn Kim, (anthropology), Christopher Leeth, (counseling), Ozsoy Cicek (geology) and Nicole Provencher (English).
According to John Joseph, he saw students who opened their minds to new things. "We are all better off for it, and I'm glad to have been part of it. My only regret is that I didn't learn about these effective teaching strategies sooner for the sake of my students."
UTF Laura Ellis-Lai noted, "I've had a lot of fun working as a UTF this year, but my favorite moments happened while talking with a TA about teaching tips over coffee at Starbucks and while working with a small group of TAs during the microteaching workshops at our August TA orientation." Sree Chandrasekharan thanked her TAs for the lessons they learned together. She urged them to "shoot for the moon because even if you miss, you will land among the stars."
The Teaching and Learning Center will offer TA training again in the spring semester, starting with two days of face-to-face modules and microteaching January 7-8. As in the fall, there will be three tracks the first day: a track for those teaching classes in the humanities, social sciences and professional fields; a studio track; and a track for TAs offering labs in the STEM disciplines (science, technology, engineering and mathematics). Keith Whittington, a computer science professor from Rochester Institute of Technology, will present the STEM track.
For the spring program, TAs can register at the Teaching and Learning Center Web site. Those who were unable to complete the fall program can register to complete it in the spring.
>> View a photo gallery of the graduate students who received certificates at the Dec. 10 ceremony.