UPS Store opens Jan. 11 in University Center at UTSA Main Campus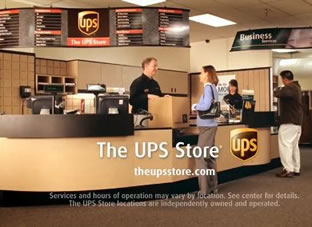 Share this Story
(Jan. 7, 2010)--The University Center announces the opening of The UPS Store on the UTSA Main Campus. The store will provide a full range of packaging, shipping, mail and document services to the university community.
The store will open for the start of classes on Jan. 11 at a temporary location across from the bookstore (University Center Room 1.0.22) while its permanent space (previously occupied by Events Management and Conference Services) is being renovated.
"We are pleased to bring The UPS Store to campus," said UC Director Lowa Mwilambwe. "Having conveniently located mail and document services provided by a nationally recognized leader supports our mission of enhancing student life and providing services for the convenience of the campus community."
The UPS Store is a full-service shipping and mail location. Customers can purchase packaging materials and ship items domestically and internationally via UPS or the U.S. Postal Service. More than 600 private mailboxes also will be available for rent.
Extensive document services will be available including color copies, black-and-white copies, binding, laminating, and banner and poster printing. Additional services will include passport and ID photos, rubber stamps, greeting cards, money orders and name badges.
"We are looking forward to becoming an integral part of the university community by supporting students, faculty and staff with our leading products and services," said Larry Rogoff, San Antonio area franchisee for The UPS Store.
The UPS Store is the most recent service addition to UTSA's University Center, which includes a Frost Bank financial center, the Campus Technology Store and the UTSA Bookstore. The UC also includes brand-name eateries such as Starbucks, Panda Express, Taco Cabana (the first on any campus), Burger King and Subway. More services are on the way with a Rios Golden Cut Salon planned to open in mid-January and a Chili's Too Restaurant planned to open in February.
-----------------------------
UPS shipping services
Next-day air
Second-day air
three-day select
Ground service
Shipping includes:
$100 declared value coverage
Package tracking sent to your e-mail
U.S. Postal Service
Stamps
Priority mail
Certified mail
Parcel post
Copying and printing
Black and white
Color
Spot color
Document finishing services
Laminating
Binding
Cutting
Shipping supplies
Boxes
Tape
Packing peanuts
Bubble wrap
Mailers