African-American scholar Boyce Watkins to speak Feb. 9 at UTSA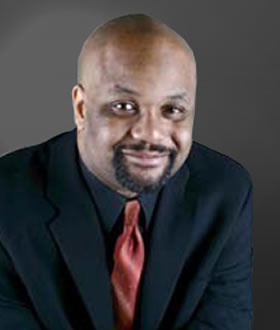 Share this Story
(Feb. 3, 2010)--As part of Black History Month, the UTSA Inclusion and Community Engagement Center and the UTSA African-American Studies program will host a lecture by scholar and social commentator Boyce Watkins at 6:30 p.m., Tuesday, Feb. 9 in the University Center Retama Auditorium (2.02.02) on the Main Campus. The lecture is free and open to the public.
A professor of finance at Syracuse University, Watkins is a specialist in financial psychology, educational motivation and black social commentary. Watkins is a faculty affiliate with the College Sports Research Institute at University of North Carolina, Chapel Hill, and the author of "Financial Lovemaking 101: Merging Assets with your Partner in Ways that Feel Good."
Known as "The People's Scholar," Watkins presents a mix of financial theory, social commentary and down-to-earth socio-political thought that is uncommon in American business schools. As an advocate for social justice, education and economic empowerment, he is a frequent critic of social and racial inequality.
In addition to publishing scholarly articles on finance and investing, Watkins has made regular appearances on CNN, "Good Morning America," "The Today Show," CBS Sports, Fox News, CNBC, MSNBC, NPR and BET. Additionally, he has written articles for the New York Times, Washington Post, Black Enterprise magazine, Essence magazine and USA Today, among others. He is a favorite financial expert and social commentator for the radio show, "The Wendy Williams Experience." He was described by Williams as "... the most significant voice of our generation."
His fourth book,"What If George Bush Were a Black Man?" was described in the national media as one of the most riveting statements in modern social commentary. He is the national director of the Step Up and Go to College program, which he established while a struggling high school student. The program's goal is to give students the motivation and tools necessary to succeed in college.
Watkins earned B.A. and B.S. degrees with a triple major in finance, economics and business management. He was selected by the Wall Street Journal as the Outstanding Graduating Senior in Finance. Watkins earned a master's degree in mathematical statistics and a Ph.D. in finance from The Ohio State University. In 2002, he was the only African-American in the country to earn a doctorate in finance.