UTSA hosts Census 2010 national touring van Feb. 19 at Main Campus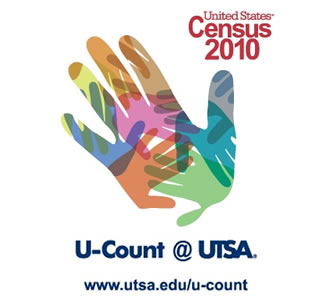 Share this Story
(Feb. 15, 2010)--UTSA will host the U.S. Census 2010 national interactive touring van in its only San Antonio stop from 1 to 3 p.m., Friday, Feb. 19 at the University Center paseo on the Main Campus.
>> A 1 p.m. kick-off ceremony for "U-Count @ UTSA" will be hosted by Mr. and Ms. UTSA, Akshay Thusu and Megan Graham, with remarks by U.S. Rep. Charlie Gonzalez, UTSA President Ricardo Romo, U.S. Census regional director Gabe Sanchez and UTSA Student Government Association President Matt DeLeon.
The kick-off also will include a visit by UTSA mascot Rowdy Roadrunner, free t-shirts and other giveaways, and music by The Elijah Zane Band.
The speakers will discuss the importance of UTSA students filling out and mailing back the census forms they will receive in the mail in mid-March. More than $400 billion in federal funds are distributed annually according to the census count.
"Federal funding determined by the census benefits education and community projects, so it's important for UTSA students to be counted," said UTSA President Ricardo Romo. "The questionnaire has only 10 questions and takes only 10 minutes to complete. So, we encourage students to fill it out and mail it back."
The Census 2010 road tour is part of the largest civic outreach and awareness campaign in U.S. history -- stopping at more than 800 events nationwide. Thirteen road tour vehicles will travel more than 150,000 miles with an educational, engaging and interactive experience that brings the census to life. With stops at local parades and festivals and major sporting events, the road tour is to motivate Americans to complete and mail back the 10-question census form when it arrives in mailboxes March 15-17.
At the UTSA event, attendees can learn about Census 2010 and understand the benefits a complete count can bring to communities everywhere, view a sample census form, learn how the collected information is used, contribute stories and photos to explain why "U-Count @ UTSA" -- and view stories and photos from road tour attendees across the country.