Chili's Too restaurant opens Feb. 14 in University Center on Main Campus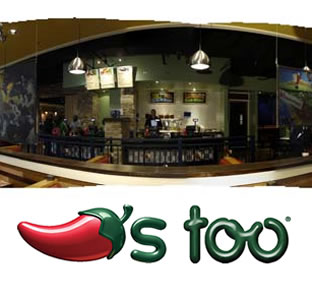 Share this Story
(Feb. 10, 2010)--A Chili's Too restaurant will open Feb. 14 in the University Center on the UTSA Main Campus. As another opportunity for engaging in campus life and creating community, ARAMARK and UTSA Business Auxiliary Services staff are excited to bring the popular brand to campus.
The restaurant will feature a variety of Chili's favorites including Big Mouth Burgers, hand-battered Chicken Crispers, and fresh tostada chips with house-made salsa. The UTSA community and visitors will enjoy sports and entertainment on large flatscreen TVs or can try the convenient to-go option.
Plan to attend the Chili's Too grand opening celebration from 11 a.m. to 2 p.m., Tuesday, March 9. The UTSA community is invited to stop by for music, games, prizes and the mouthwatering flavors of Chili's Too.
The restaurant hours will be 10:30 a.m.-10:30 p.m., Monday-Thursday; 10:30 a.m.-7 p.m., Friday; 10:30 a.m.-2 p.m., Saturday; and 3-9 p.m., Sunday.
>> For more information about ARAMARK on campus including news and events, visit the UTSA Campus Dish Web site or e-mail utsafood@aramark.com. Follow ARAMARK at UTSA on Twitter.