UTSA community: Volunteer for Feb. 17 Main Campus cleanup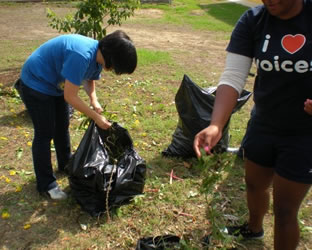 Share this Story
(Feb. 15, 2010)--The third annual VOICES Campus Cleanup is 10 a.m.-2 p.m., Wednesday, Feb. 17. The event comes just in time for volunteers to help get the campus ready for Homecoming, Feb. 18-20.
The student organization VOICES (Volunteer Organization Involving Community, Education and Service) invites individuals and organizations to participate -- come at any time during the cleanup to sign in at Sombrilla Plaza on the Main Campus.
Gloves and trash bags will be provided. Participants are advised to wear closed-toe shoes.
If you plan to bring a large organization, please let us know in advance of the event by e-mailing jennifer.lilly@utsa.edu.
For more information, call 210-458-4770.