Spurs offer College Rush program discount tickets for students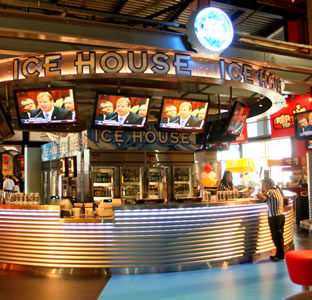 Share this Story
(Feb. 5, 2010)--A San Antonio Spurs program for the 2009-2010 season offers college students significant discounts on single-game tickets for all Spurs home games. The Spurs College Rush program allows students to purchase a lower-level ticket for $30 (face value $68-$275) or an H-E-B Fan Zone ticket for $5 (face value $10-$49).
The next Spurs home game is Wednesday, Feb. 24 against the Oklahoma City Thunder. The H-E-B Fan Zone is an interactive area at the AT&T Center where parents can bring their children, and fans of all ages can play games and taste specialty food and drinks while watching the game from a great view.
"We are very excited about our Spurs College Rush program," said Frank Miceli, senior vice president of sales and marketing for Spurs Sports and Entertainment. "This program offers a tremendous value to college students. For less than the price of a movie, a college student can attend a game at the AT&T Center and experience the excitement of Spurs basketball."
Tickets through the Spurs College Rush program are available for Spurs home games not sold out before 10 a.m. on game day. At 10 a.m. the Spurs will use a variety of communication tools to announce ticket availability for that night's game including spurs.com, keyword "College," where students can link to the College Rush Facebook page or "Spurs_College" on Twitter.
Students also can receive automatic ticket availability updates via text alerts each game day by texting "college" to 50927; standard message rates apply.
Spurs College Rush tickets are available for purchase two hours before tipoff (5:30 p.m. for a 7:30 p.m. tip) until that game is sold out. One hour before tipoff, students who present a valid college ID at the AT&T Center box office can purchase two tickets. If a student presents an ID after the game is sold out, they can either purchase a $5 standing-room-only ticket or purchase a Spurs College Rush ticket for the next available home game.
For more information, visit the San Antonio Spurs Web site, keyword "College" or call 210-444-5050.