Update: UTSA officials continue to monitor weather to ensure campus safety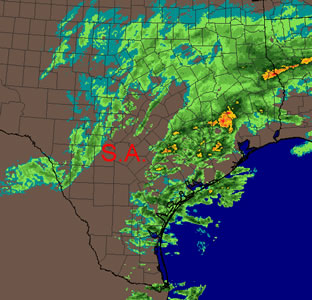 Share this Story
(Feb. 23, 2010, 4:15 p.m.)--The UTSA administration team continues to monitor the latest weather information, keeping in mind the safety of the UTSA community. UTSA remains open. All offices, programs and classes at the UTSA Main, Downtown and HemisFair Park campuses are open and operating on a regular schedule.
According to the National Weather Service, light precipitation over the Hill Country is quickly moving east and out of South Central Texas. The light precipitation should not add significant accumulation during the late afternoon and early evening hours. Metro San Antonio should be in good shape during the Tuesday rush hour with mostly wet roads.
Temperatures will hover near freezing through 9 p.m., Tuesday, then drop to freezing at most locations from 9 p.m., Tuesday, to 9 a.m., Wednesday. There may be slippery spots on bridges and overpasses. To help ensure safety on the roads, drivers should slow down and allow more space between cars.
Streets should remain wet because of warm ground and pavement temperatures, preventing ice build-up through the afternoon. Any icy spots should melt by midday Wednesday and most roads will be dry by mid-afternoon Wednesday.
Any time of year, whether there is excessive rain or ice, there are three venues through which the UTSA administration communicates the operational status of the university:
UTSA faculty, staff and students can call 210-458-SNOW (7669) at any time for information about the Tri-Campus community regarding the status of classes and employee work schedules. The extension can answer up to 138 calls at a time, but please be patient and try again if you get a busy signal.
In the advent of extreme weather, UTSA provides all area broadcast and print media outlets with the latest information in a timely manner. The university initially communicates with both WOAI Television and WOAI Radio.
------------------------------
FAQ: UTSA weather closures
When does UTSA determine whether or not to close the campuses due to adverse weather?
When adverse weather occurs during the night, UTSA administrators make a decision as soon as possible but generally by 5 a.m. regarding whether or not to close the UTSA campuses. Subsequently, University Communications staff members continually update the 458-SNOW message and Web sites, and contact media outlets.
At other universities, they continue to have classes regardless of snow or ice. What criteria are used to close UTSA?
UTSA is committed to making the best decision concerning the safety of students, faculty and staff. In San Antonio, even a small amount of ice might create an unsafe situation, considering that students and employees travel to the university from various distances. For example, weather in the Hill Country may not be the same as in southern portions of Bexar County.
What if my situation appears dangerous, and I cannot determine whether or not UTSA is closed?
Individuals are encouraged to make a prudent decision about traveling to campus in consideration of the weather in their area.