Institute of Texan Cultures presents paintings by Carmen Oliver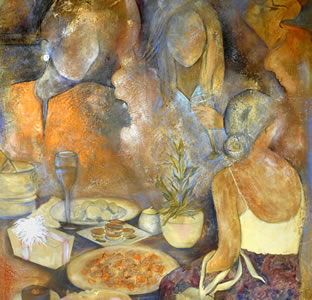 Share this Story
(March 4, 2010)--As part of the Texas Contemporary Artists Series, the Institute of Texan Cultures will host an exhibit of paintings by Carmen Oliver through June 20. Admission is free with UTSACard.
>> An opening reception, free and open to the public, is 5:30-7:30 p.m., Thursday, March 4.
A native of Mexico City, Oliver has shown her work in Mexico and the United States for 30 years. For the last 10 years, she has made Texas her home. In 2000, her work was included in the Biennale Internazionale d'Arte Contemporanea di Firenze in Italy.
According to exhibition curator and UTSA art specialist Arturo Almeida, Oliver's new work lyrically fuses abstract and representational elements. Fantastic and wondrous, her poignant narratives magically celebrate the everyday lives of women.
Oliver also is exhibiting paintings through May 10 at the Radius Cafe, 106 Auditorium Circle. For more information, call 210-896-1985.
The Texas Contemporary Artists Series showcases the talents of some of Texas' premier artists. In keeping with the Institute of Texan Cultures mission of understanding and celebrating Texas' cultural heritage, selected contemporary artists will exhibit a broad spectrum of artistic styles and media. Common to all of their work is the bold vision and exuberance that is the essence of Texan culture. Read more at the Institute of Texan Cultures Web site.
------------------------------
The Institute of Texan Cultures is on the UTSA HemisFair Park Campus, 801 E. Durango Blvd., a short distance from the Alamo and the River Walk. Regular hours are 10 a.m.-5 p.m., Monday-Saturday; noon-5 p.m. Sunday. Admission is $8 for adults (ages 12-64); $7 for seniors (ages 65 +); $6 for children (ages 3-11); free with membership, or UTSA or Alamo Colleges identification. For more information and resources for multiple audiences, call 210-458-2300 or visit the Institute of Texan Cultures Web site.
The Institute of Texan Cultures is an agency of the UTSA Office of the Vice President for Community Services. The mission of the institute is to engage lifelong learners in the understanding and celebration of Texas cultural heritage. The 182,000-square-foot complex features 65,000 square feet of interactive exhibits and displays that tell the stories of Texans.