UTSA wins nine awards at CASE District IV Conference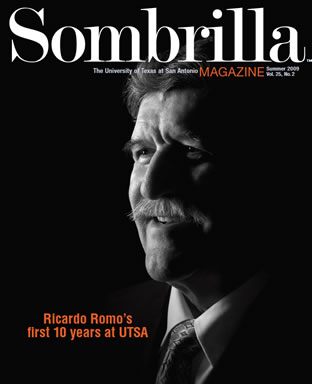 Share this Story
(March 30, 2010)--At the 2010 CASE District IV Conference March 27-30 in Austin, UTSA's team from the Office of the Vice President for University Advancement won nine awards including two grand awards (gold), one award of excellence (silver), one achievement award (bronze) and five special awards (pewter). University Communications received seven awards, Alumni Programs received one award and University Advancement received one award.
Headquartered in Washington, D.C., with offices in London and Singapore, CASE (Council for Advancement and Support of Education) is an international professional association serving educational institutions and advancement professionals in alumni relations, communications, fundraising, marketing and other areas.
CASE District IV includes 260 schools, colleges, universities and other educational organizations in Arkansas, Louisiana, New Mexico, Oklahoma, Texas and Mexico. Each of CASE's North American districts offer awards programs to recognize outstanding programs and individuals. Among other work, district awards honor everything from annual reports to Web sites to distinguished service to new professionals.
CASE has 22,500 members with nearly 3,400 colleges, universities, independent elementary and secondary schools, and educational associates in 59 countries. CASE is one of the largest nonprofit education associations in institutional membership, serving more than 60,000 advancement professionals. CASE helps its members build stronger relationships with alumni and donors, raise funds for campus projects, produce recruitment materials, market their institutions to prospective students, diversify the profession and foster public support of education.
------------------------------
2010 CASE District IV awards to UTSA
Special Award (Pewter) -- Alumni Programs, Best New Alumni Program, "Volunteer Vista"
Special Award (Pewter) -- University Communications, Visual Design -- Special Pieces, "Fiesta River Parade Invitation"
Grand Award -- University Communications, Visual Design -- Illustration, Sombrilla, Spring 2009
Special Award (Pewter) -- University Communications, Medical-Scientific Writing, Sombrilla, Spring 2009: "Why Jane and Johnny Can't Factor a Polynomial"
Achievement Award (Bronze) -- University Communications, General Writing Collection, Ovations, Vol 4, 2009, "Witness to the Fall," "Voices Unheard" and "A Window Into the Hidden World of Myanmar"
Award of Excellence (Silver) -- University Communications, Mark McClendon, Black and White Photography -- Candid, "Ricardo Romo Portrait, Downtown Commons"
Special Award (Pewter) -- University Communications, Mark McClendon, Color Photography -- Series, "Carter House"
Grand Award -- University Communications, World Wide Web Site -- Main URL, "Sombrilla Online"
Special Award (Pewter) -- University Advancement, Outstanding Project, Online Support Suite Ticket System