UTSA group sponsors Cesar Chavez march participation March 27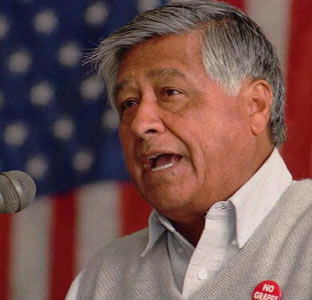 Share this Story
(March 26, 2010)--The UTSA Academy for Teacher Excellence will sponsor UTSA participation in the annual Cesar Chavez march on Saturday, March 27. The march honors the Mexican American farm worker and activist who co-founded the National Farm Workers Association. UTSA students and other UTSA community members are invited to participate in the march.
Marchers will assemble at 11 a.m. at the corner of Guadalupe and Brazos streets. College Readiness Now students and supporters will carry ATE and UTSA banners. The College Readiness Now students must bring a signed permission form in order to participate.
After the march at approximately 4 p.m., buses will return participants to the starting location for a discussion on topics such as:
What did we learn in the march?
What do you know about the Alamo?
Who are the Tejano heroes of the Alamo?
Who were the immigrants at that time?
Should there be a national holiday honoring Cesar Chavez?
According to Wikipedia, Cesar Chavez (March 31, 1927-April 23, 1993) was a Mexican American farm worker, labor leader and civil rights activist who, with Dolores Huerta, co-founded the National Farm Workers Association, which later became the United Farm Workers. His work led to numerous improvements for union laborers. His birthday became Cesar Chavez Day, a state holiday in eight U.S. states. Many parks, cultural centers, libraries, schools, and streets have been named in his honor in cities across the United States.
For more information, contact Mary Riedel, UTSA Academy for Teacher Excellence, at 210-458-6175.