Chili's Too restaurant grand opening is March 9 at Main Campus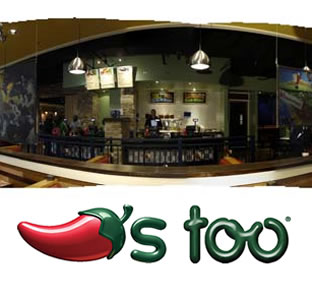 Share this Story
(March 8, 2010)--The grand opening of the Chili's Too restaurant in the University Center on the UTSA Main Campus is 11 a.m.-2 p.m., Tuesday, March 9. The UTSA community is invited to stop by for the ribboncutting at 11 a.m., followed by food samplings, music, games and prizes.
The restaurant features a variety of Chili's favorites including Big Mouth Burgers, hand-battered Chicken Crispers and fresh tostada chips with house-made salsa. The UTSA community and visitors will enjoy sports and entertainment on large flatscreen TVs or can try the convenient to-go option.
Chili's Too hours are 10:30 a.m.-10:30 p.m., Monday-Thursday; 10:30 a.m.-7 p.m., Friday; 10:30 a.m.-2 p.m., Saturday; and 3-9 p.m., Sunday.
>> For more information about ARAMARK on campus including news and events, visit the UTSA Campus Dish Web site or e-mail utsafood@aramark.com. Follow ARAMARK at UTSA on Twitter.