2010 Women's Final Four offers family-friendly activities April 2-6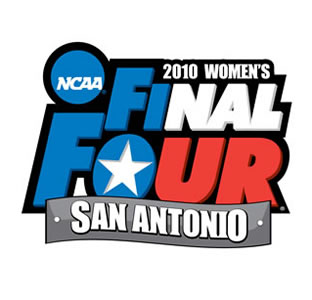 Share this Story
(March 26, 2010)--The NCAA Women's Final Four Division I Basketball Championship comes to town April 2-6 and the festivities include a weekend filled with free, family-fun events and activities.
As the NCAA Final Four host institution, UTSA once again teams up with the San Antonio Local Organizing Committee and the City of San Antonio to host a number of downtown events. San Antonio also hosted the 2008 and 1998 Men's Final Four.
The fun begins at noon, Friday, April 2 at the Alamodome with the Dome Dribble fueled by Powerade. Youths age 18 and under are invited to participate in the free event where they will receive a t-shirt and basketball donated by the NCAA and Wilson Sporting Goods Co., the official basketball supplier of the NCAA. The event will feature several thousand youths dribbling from the Alamodome to Tourney Town, a family-friendly festival celebrating the best in women's college basketball at the Henry B. Gonzalez Convention Center Exhibit Hall A. Pre-registration is recommended at the 2010 NCAA Women's Final Four Web site.
Inside Tourney Town spectators will enjoy live music and a deejay hosting fan activities. Basketball courts are adjacent to both stages for youth clinics, open play and deejay hosted games. Fans can choose from a wide variety of concessions, merchandise, roving entertainment, live and pre-recored video programming, and live musical performances by local, regional and national talent.
The concerts kick off at 4:30 p.m., Friday, April 2, with Kate Voegele, singer and star of the television show "One Tree Hill," performing.
From 7 to 11 p.m., Saturday, April 3, country music artist Joe Nichols will lead a lineup of performers including J.R. Castillo and Unwound, and Charla Corn.
From noon to 5 p.m., Sunday, April 4, musical concert performers will include "American Idol" finalist Ayla Brown, Sarah Lenore and DJ Mel to entertain the crowds.
The festivities wrap up at 7:30 p.m., Tuesday, April 6 with the NCAA Women's Final Four Basketball Championship game.