UTSA hosts photography exhibit by Tony Andre Gaines through April 30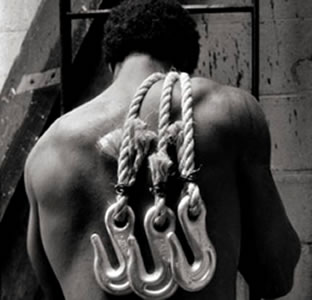 Share this Story
(March 1, 2010)--As part of the observance of Black History Month, the UTSA Office of Student Activities and the Office of the President will host an exhibit of photography by Tony Andre Gaines through April 30 at the UTSA Downtown Gallery in Durango Building Room 1.124, Downtown Campus. The exhibit is free and open to the public.
>> An opening reception with the opportunity to meet the artist is 5:30-7:30 p.m., Tuesday, March 2.
Gaines' photographic work uses surrealist and symbolist styles to tell the story of the African-American experience. The exhibit was coordinated by Michelle Montanio, assistant director of student activities, and Arturo Almeida, art specialist in the Office of the President.
Born in Chicago, Gaines was influenced at an early age by the Civil Rights movement, which inspired him as he developed as an artist. He began learning about photography as a high school junior in Las Vegas and went on to earn a bachelor of fine arts degree in photography, sculpture and art history at the University of Iowa. As a developing artist, his strongest influences at Iowa were photography professor John Shultz, painting and design professor Ben Moss and historian Steven Foster, an expert on Dadaist art.
According to Wikipedia, from the early 1900s through the 1920s, Dadaism laid the groundwork for abstract art, sound poetry, performance art, postmodernism and surrealism. It was an influence in the 1960s on pop art, anti-art, avant-garde art and punk rock. Dada activities included public gatherings, demonstrations and publication of art and literary journals, and passionate coverage of art, politics and culture in a variety of media.
Gaines' photographic style was influenced by various jobs in city government, crime-scene, fashion and advertising photography. Feeling his artistic ability wasn't being demonstrated, he returned to his art origins and began producing art photography in both black-and-white and color. Gaines has exhibited fine art prints and sculpture at the Museum of Fine Arts of Houston.
The UTSA Downtown Gallery hours are 8 a.m.-6 p.m., Monday-Friday. For more information, contact Michelle Montanio at 210-458-2816.