March 4 faculty open house celebrates UTSA Libraries Special Collections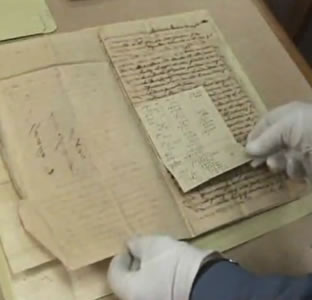 Share this Story
(March 3, 2010)--The UTSA Libraries will host an open house for all UTSA faculty members from 4 to 5 p.m., Thursday, March 4 in the John Peace Library Assembly Room (formerly the Regents' Room). The event is to celebrate the opening of the Special Collections suite on the fourth floor of the John Peace Library. Refreshments will be served.
To visit the UTSA Libraries Special Collections suite, turn left when exiting the elevator, make another quick left and proceed forward; the Assembly Room is to the right of the new suite.
The open house will feature a presentation by David Johnson, UTSA professor of history, who will speak on his experience using UTSA's Special Collections for research. UTSA Provost John Frederick and Mark Shelstad, head of the UTSA Libraries Department of Special Collections, also will give remarks.
Special Collections houses the university archives as well as rare books, official records, personal papers and other one-of-a-kind historical items documenting the people, history, art, life and literature of San Antonio and South Texas. Supporting the university's ascent to national research university status, the newly renovated space allows UTSA Libraries to better sustain the university's teaching, research and outreach mission by acquiring, preserving and digitizing primary resources for use by scholars at UTSA and from around the world.
For more information, contact Anne Peters at 210-458-4863.