UTSA Office of P-20 Initiatives honors Bexar County mentors for youths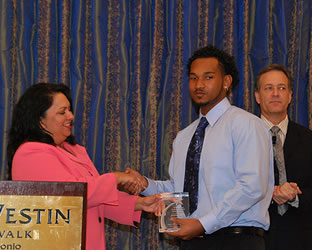 Share this Story
(March 9, 2010)--The UTSA San Antonio Mentoring Forum (SAMF) recently hosted the annual mentor recognition luncheon. Mayor Julian Castro was on hand to congratulate area mentors for their work. The event honors outstanding mentors and brings attention to the need for mentors for youth in our community. The event also raises funds for UTSA mentoring initiatives including scholarships, training and mentoring awareness programs.
This year's honorees included:
Outstanding Adult Mentor: Theo Sumler and Erin Mankus
Outstanding College Student Mentor: Austin Novak
Outstanding Corporate/Business Mentoring Program: Rackspace Managed Hosting
Outstanding School Mentoring Program: Monroe May Elementary School (NISD)
Outstanding Advocate for Mentoring: Jeanne Russell
The event was part of a National Mentoring Month campaign with many activities across the country. In a proclamation designating January as National Mentoring Month, President Obama praised mentors for "building a brighter future for our nation by helping our children grow into productive, engaged, and responsible adults." The President urged Americans "to give back by mentoring young people in their communities who may lack role models."
Read the complete proclamation.
The campaign's goals are to mobilize community volunteers to mentor young people and to increase knowledge about how mentoring can greatly enhance a young person's prospects for leading a healthy and productive life. Research shows that mentoring has beneficial and long-term effects on youth by increasing their chances of high school graduation and college attendance and decreasing the likelihood of substance abuse and other risky behaviors.
The San Antonio Mentoring Forum is a UTSA Office of P-20 Initiatives program and serves as an informal organization for mentoring organizations and mentoring advocates. It is a place where groups such as Communities in Schools, Big Brothers Big Sisters, School Districts, faith-based organizations, businesses and other mentoring advocates come together to share mentoring information, promote mentoring awareness and foster collaboration in the mentoring community. The forum is a UTSA mentoring initiative and focuses on one-to-one mentoring for youth in Bexar County.
For more information visit the San Antonio Mentoring Forum Web site.