President Ricardo Romo joins in celebrating 100 years of military flight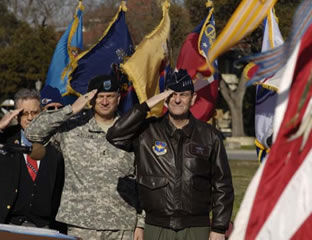 Share this Story
(March 5, 2010)--Last Tuesday, on an unseasonably cold and windy March morning for San Antonio, UTSA President Ricardo Romo was part of an historic event at Fort Sam Houston where military brass, civic leaders and aviation enthusiasts kicked off a full year of events to celebrate 100 years of military flight.
Romo was invited to represent the San Antonio community in a program that also included Amanda Wright-Lane, great grandniece of Orville and Wilbur Wright and Maj. Gen. (Ret.) Patrick Henry Brady, a member of the Army Aviation Association of America Hall of Fame.
Wright-Lane spoke of the Wright family's continued commitment to aviation and the significance of Orville and Wilbur Wright's lives. "From a craft made of fabric and wood to the dawn of aerospace technology, a journey literally from the sand to the stars, my great granduncle's revolutionary engineering project has become a legacy for mankind," she said.
It was March 2, 1910, when U.S. Army 1st Lt. Benjamin Foulois (pronounced Fa LOY), the sole flyer of the first military airplane, catapulted from a wooden take-off tower and monorail track at Fort Sam Houston, Texas, on an aircraft purchased by the government and built by the Wright brothers. On a flimsy aircraft without a rudder, brakes or wheels, Foulois flew 7.5 minutes that day, a remarkable feat for a pilot who taught himself to fly.
His only experience before the historic March 2 flight was 54 minutes of instruction from Wilber Wright in 1909 and through correspondence with both Wright Brothers asking questions and receiving answers about engine problems and the like. Foulois said he was "the first and only pilot in history to learn to fly by mail."
Romo's inclusion in the program is significant because he was the architect of the celebration's community component, something added for the first time to this historic milestone commemoration.
According to Jim Massaro, UTSA's military liaison and assistant vice president for research and development, Romo hosted a meeting more than two and a half years ago in anticipation of this event.
"About 50 people showed up, many former Kelly Air Force Base employees and others who represented the various chambers and community groups in town," said Massaro. "Dr. Romo called the meeting because he wanted UTSA to expand its collection of military history at the Institute of Texan Cultures and thought it a good idea for the entire community to work together to celebrate 'Military City USA' on the anniversary of 100 years of military flight."
The Institute of Texan Cultures has indeed committed to its military collection and over the next few months will be actively engaging the community in a number of military-themed exhibits and special events beginning with Family Day this weekend. Read more about the event on UTSA Today.
UTSA in collaboration with the San Antonio Chamber of Commerce and others were successful integrating the community into the military's commemoration and have planned additional military-themed celebrations over the next year to include the annual Fiesta River Parade. See the complete schedule of 2010 events.