UTSA receives national recognition for community service, civic engagement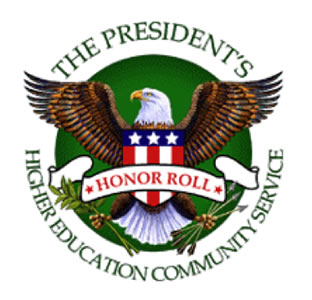 Share this Story
(March 9, 2010)--The University of Texas at San Antonio was named to the 2009 President's Higher Education Community Service Honor Roll, the highest federal recognition a college or university can receive for its commitment to volunteering, service-learning and civic engagement.
The Corporation for National and Community Service, which administers the annual Honor Roll award, recognized more than 700 colleges and universities for their impact on issues from poverty and homelessness to environmental justice. On campuses across the country, thousands of students joined their faculty to develop innovative programs and projects to meet local needs using the skills gained in their classrooms.
"Congratulations to UTSA and its students for their dedication to service and commitment to improving their local communities," said Patrick Corvington, CEO of the Corporation for National and Community Service. "Our nation's students are a critical part of the equation and vital to our efforts to tackle the most persistent challenges we face. They have achieved impactful results and demonstrated the value of putting knowledge into practice to help renew America through service."
"Community engagement and public service are key components of our UTSA mission statement," said UTSA President Ricardo Romo. "We accept this honor roll recognition as testimony to the impact that UTSA students are making in partnership with our community, near and far, and support from faculty and staff."
The honor roll includes six colleges and universities that are recognized as presidential awardees with an additional 115 named to the distinction list and 621 schools named as honor roll members. Honorees are chosen based on a series of selection factors including the scope and innovation of service projects, percentage of student participation in service activities, incentives for service, and the extent to which the school offers academic service-learning courses.
Read the full list of Honor Roll recipients.
UTSA public-service activities include:
UTSA United to Serve, a project in which students, faculty, and staff participated in 14 community-service projects across. Project sites were: Seton Home, San Antonio State Hospital, Department of Family and Protective Services, Any Baby Can, San Antonio Food Bank, Cibolo Nature Center, Pregnancy Care Center, City of San Antonio Graffiti Wipeout, Boystown Texas, Green Spaces Alliance, San Antonio Libraries and Humane Society.
Non Profit Internships: National Certification in Nonprofit Management and Leadership through the UTSA American Humanics program in which students participate in at least 300-hour internships with nonprofit organizations.
See a comprehensive listing of UTSA's community outreach programs.
Interns make a significant difference in San Antonio's nonprofit community, building organizational capacity and providing labor that is necessary but often a financial burden. College students make a significant contribution to the volunteer sector; in 2009, 3.16 million students performed more than 300 million hours of service, according to the Volunteering in America study released by the Corporation for National and Community Service.
The corporation oversees the honor roll in collaboration with the Department of Education, Department of Housing and Urban Development, Campus Compact and American Council on Education.
The Corporation for National and Community Service is a federal agency that engages more five million Americans in service through its Senior Corps, AmeriCorps, and Learn and Serve America programs and leads President Obama's national call to service initiative, United We Serve. For more information, visit the National Service Web site.
For more information, contact Belinda Saldana, UTSA director of community outreach, Office of P-20 Initiatives, at 210-458-2904.