UTSA community members: Wear your QEP t-shirt Wednesday, March 24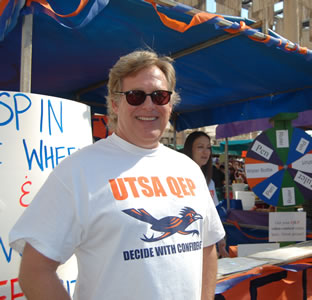 Share this Story
(March 22, 2010)--Wednesday, March 24 is "Wear Your QEP T-shirt Day!" Anyone at UTSA wearing a QEP t-shirt on Wednesday will receive a free snack at two special events -- while supplies last. If you don't have a QEP t-shirt, get your hand stamped with the QEP stamp at one of the events:
Free doughnuts: Downtown Campus, 9 a.m., Frio Street Building commons
Free ice cream: Main Campus, 12:30 p.m., Sombrilla Plaza (in case of rain: University Center ski lodge)
QEP is the Quality Enhancement Plan, an important part of UTSA's reaccreditation effort. The vision of QEP is that students who graduate from UTSA will be able to understand the role of numbers in their professional and personal lives, know how to reason and think using numbers, and use data to make decisions.
On March 23-25, UTSA will host the review team from the Southern Association of Colleges and Schools at our campuses. SACS re-accreditation takes place every 10 years.
>> If a SACS team member stops you on campus and asks if you know basic information about the QEP -- UTSA students, faculty and staff can be prepared by reading the QEP Executive Summary (PDF document).
For more information, contact Nancy Martin, UTSA associate vice provost for core curriculum and QEP, at 210-458-5187.