SBA chief tours international trade, research hubs of Institute for Economic Development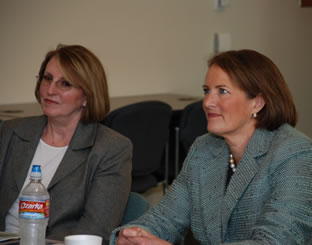 Share this Story
(March 4, 2010)--The UTSA Institute for Economic Development recently played host to U.S. Small Business Administration (SBA) Administrator Karen G. Mills. Robert McKinley, UTSA associate vice president for economic development, guided Mills through an executive briefing about the Institute for Economic Development in general and two programs in particular -- the Small Business Development Center National Information Clearinghouse (SBDCNet) and SBDC International Trade Center.
"UTSA has a long-standing partnership with SBA to provide educational extension services in our region. Hosting SBA administrator Karen Mills here in the field helps us synchronize our services with Washington in order to meet the ever-evolving needs of small businesses," McKinley said.
SBDCNet Director provided an overview of her program's services. The market research arm for the SBDC community nationwide, SBDCNet has been hosted by the South-West Texas Border SBDC Network at UTSA for 12 years.
Staff provides timely, relevant research toward a mission of "putting big business tools in the hands of small business." Over the last five years, demand for research from the SBDCNet has increased 120 percent, totaling nearly 6,000 requests in FY 2009, Schueneman noted.
The SBDC International Trade Center is one of the largest and most successful trade assistance organizations in Texas. Established in 1992, it provides businesses with high-value trade consulting services, market research and innovative training programs that improve client success. Director Cliff Paredes highlighted several new initiatives, including the Certified Global Business Professional Series and the global trade platform, SBDCGlobal.com.
This online trade platform will link small business clients among the U.S., Mexico and Colombia SBDC networks. When it launches in spring 2010, the platform will provide clients with access to new domestic and international markets, supplier networks, facilitated business opportunities and one-on-one consulting.
The U.S. Small Business Administration helps millions of potential and existing small business owners every day to start, build and grow their businesses. SBA delivers its services through partnerships with public and private organizations. SBA offers financial assistance through its primary 7(a) Loan Guaranty program and federal procurement opportunities through its 8(a) Business Development program.
In FY 2009, the SBA San Antonio District Office approved 722 loans for $165.8 million under the 7(a) program, 105 loans for $74.1 million under the 504/CDC program and 10 loans for $300,700 under the America's Recovery Capital loan program. Under the 8(a) Business Development program, 422 sole-source federal contracts were awarded to 8(a) firms for a total of $310,438,482.72.
UTSA administers a network of 10 small business development centers comprising the South-West Texas Border SBDC Network in partnership with SBA. In 2009, the network served 26,532 businesses with consulting, training and research services resulting in $482.6 million increased revenues, $89.9 million new financing and investments, and the creation or retention of a combined 7,900 jobs.
-------------------------------
The UTSA Institute for Economic Development provides professional business consultation, technical training, research and strategic planning services to help establish and grow small businesses. The institute comprises 10 programs that serve the Texas-Mexico border area as well as regional, national and international outreach efforts. Together with federal, state and local governments and private businesses, the IED fosters economic and community development in support of UTSA's community engagement mission.