UTSA engineering students welcome teens for state engineering competition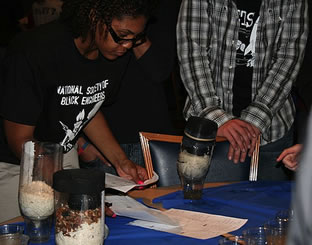 Share this Story
(March 29, 2010)--More than 175 high school students gathered March 5 at the UTSA Main Campus in the University Center ballroom to participate in TEAMS, a statewide engineering competition developed by the Junior Engineering Technical Society. The annual competition fosters creativity, critical thinking and teamwork by testing how well high school students use their math and science knowledge to address a global engineering challenge. This year's project theme was "Providing Clean Water to a Global Population."
Working in teams of four to eight students, the high school competitors transformed the ballroom into a library of sorts, stacking physics, chemistry and math textbooks next to massive science encyclopedias in preparation for the three-hour competition. "AP Physics" and "Barron's Forgotten Calculus" were among their references. Most competitors also toted graphing calculators, and some brought along granola bars and cheese crackers for sustenance.
After a welcome by the leaders of UTSA's National Society for Black Engineers, the competitors began the first half of their challenge, working under timed conditions to correctly answer 80 multiple-choice questions in math and science. Later, the students collaborated to complete eight tasks related to water filtration including the development of a water filter.
In the junior varsity (ninth and 10th grade) division, McNeil High School in Austin, Cedar Park High School and Cuero High School placed first, second and third, respectively. When the organizers of the event tabulated the scores online to rank them among competitors at other venues across Texas, the schools earned second, fifth and sixth place, respectively.
In the varsity (11th and 12th grade) division, Cedar Park High School won first place, and the teams from Winston Churchill High School in San Antonio won second and third at the UTSA competition. The varsity teams' scores earned them seventh, eighth and ninth place overall when compared to the competitors across the state.
So, what characterized the most successful teams? Winston Churchill High School's AP Physics teacher, Ginger McDaniel, has coached her students, all juniors and seniors, for many years.
"The competition is as much about being able to work together as it is to divide and conquer," she said.
2010 is the first year UTSA hosted the annual TEAMS competition.
-------------------------------
About the UTSA Chapter of the National Society for Black Engineers
The National Society of Black Engineers is one of the nation's largest student organizations. The organization works to increase the number of successful black professionals in engineering while making a positive impact on communities through service. Open to all students, UTSA's chapter supports engineering students academically and professionally and sponsors community-service projects and high school mentoring programs.