UTSA Institute for Economic Development hosts March 10 trade seminar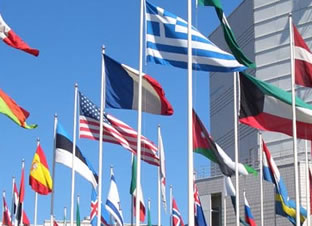 Share this Story
(March 9, 2010)--The UTSA Institute for Economic Development will sponsor an international trade seminar, "How to do Business in the United States/Como Hacer Negocios in los Estados Unidos," from 8 a.m. to 4 p.m., Wednesday, March 10 in the Durango Building Southwest Room (1.124) at the UTSA Downtown Campus.
The one-day seminar will provide key information for Mexican business owners who want to start or expand their business into American markets.
Panel discussions will include these topics:
What do I need to know about the American business culture?
How to sell your product and buy and business in the United States
Finance and tax issues for Mexican companies
Immigration and legal issues for Mexican businesses
Commercialization and logistics between Mexico and the US
Featured speakers include Victoria Jones, UTSA College of Business; Minerva Garcia, UTSA International Trade Center; Frank Martinez, Frost Bank; and Robert Loughran, FosterQuan LLP, among many others.
"The conference is a very powerful tool by which Mexican business owners learn about the risks and opportunities that exist in various entry strategies in the U.S.A.," said Eugenio J. Reyes-Guzman, director of the World Trade Center Nuevo Leon and a previous participant in the conference.
The seminar is hosted by the UTSA International Trade Center (ITC), UTSA Mexico Center, Asociacion de Empresarios Mexicanos and Asociacion Mexicana de Centros para El Desarrollo de la Pequena Empresa.
The cost of the seminar is $65 and discounts are available for ITC clients and students.
To register, contact Irene Keegan at 210-546-2144 or info@aem-usa.org or Barbara Mooney at 210-458-2470.
------------------------------
For more information, contact Lynn Gosnell at 210-458-2978.
The UTSA Institute for Economic Development provides professional business consultation, technical training, research, and strategic planning services to help establish and grow small businesses. The institute comprises 10 programs that serve the Texas-Mexico border area as well as regional, national and international outreach efforts. Together with federal, state and local governments and private businesses, the Institute for Economic Development fosters economic and community development in support of UTSA's community engagement mission.