UTSA United to Serve is opportunity to volunteer for community projects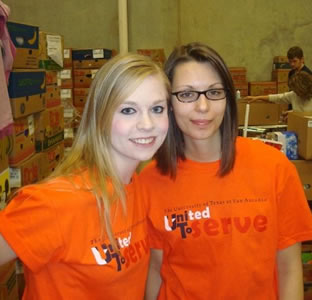 Share this Story
(March 29, 2010)--The sixth annual UTSA United to Serve is Saturday April 10. The event brings together students, faculty, staff, alumni, student organizations and friends in service to the greater San Antonio community.
>> One of many volunteer initiatives at University of Texas System institutions, individuals and groups can sign up to participate at the UTSA Inclusion and Community Engagement Center Web site.
Projects include work at the Communities in Schools Ropes Course, barn painting at the Saddle Light Center, Habitat for Humanity, UTSA Boulevard Clean-up and many more. Each participant will receive a t-shirt (while supplies last) and will be invited to Volunteer Appreciation Day activities April 21 during National Volunteer Appreciation Week.
United to Serve is sponsored by the Office of the President, Office of Student Affairs, Inclusion and Community Engagement Center, Student Government Association and the students group Volunteer Organization Involving Community Education and Service (VOICES).
For more information, contact the UTSA Inclusion and Community Engagement Center at 210-458-4770.