Arturo Almeida receives award in renowned San Antonio Art League and Museum exhibit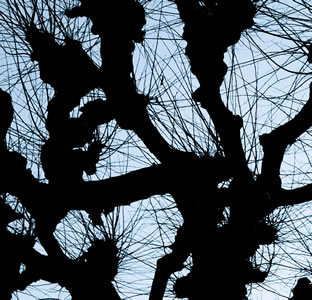 Share this Story
(April 23, 2010)--Arturo Almeida, art specialist and curator of the UTSA Art Collection, received the Ann Griffith Ash Patron Award in the 80th annual San Antonio Art League and Museum Artists Juried Exhibition. Edward Schad, curator at the Broad Art Foundation of Santa Monica, Calif, judged the exhibition.
Almeida is a native of Brownsville, Texas. He attended Del Mar College and studied photography at San Antonio College and the Southwest School of Art and Craft. His photography has been displayed in Austin, San Antonio, El Paso and Corpus Christi.
From 485 entries, 60 pieces were selected for the SAALM exhibition with 16 receiving awards. The main prize went to Susan Bromfield Farris, who won the Julian Onderdonk Memorial Purchase Prize. Farris' work is represented in the UTSA Art Collection.
The annual exhibition has its roots in the 1927-1929 purchase prize exhibitions sponsored for the San Antonio Art League by Edgar B. Davis, a transplanted Yankee, rancher, wildcatter and self-made millionaire. The Davis competitions were among the most significant cultural events in Texas in the early 20th century and were instrumental in forging the state's emerging art community and catapulting Texas art into the national spotlight.
Each year, a purchase prize -- the Onderdonk award -- is chosen in the tradition of the Davis purchase prizes. Additional awards are given to selected works. The works exhibited are available for purchase with the exception of the Onderdonk prizewinner, which becomes part of the SAALM permanent collection.
The San Antonio Art League and Museum is at 130 King William St. across from King William Park. The museum is open to the public free of charge from 10 a.m. to 3 p.m., Tuesday-Saturday. Donations are welcomed.
For more information, call 210-223-1140.