UTSA piano students present 'Beethoven in the Ballroom' April 8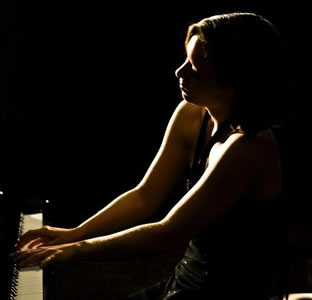 Share this Story
(April 7, 2010)--The UTSA Department of Music will host a free, brown-bag lunch concert, "Beethoven in the Ballroom," from 11 a.m. to 1 p.m., Thursday, April 8 in the University Center Ballroom (1.104) on the Main Campus. The UTSA community is invited to bring lunch to this come-and-go event and enjoy performances by UTSA piano students of selected sonatas by Beethoven.
The musical performances will be supplemented with a simultaneous slide show presentation featuring basic descriptions of each work.
Ludwig van Beethoven's 32 piano sonatas include some of his most popular compositions. They also contain many of the most difficult technical hurdles in the standard piano repertoire.
In the sonatas, Beethoven experimented with the technical capabilities of pianists and of the piano itself. Stylistically, his use of form and harmony were consistently progressive and his development of the genre as an expressive device paved the way for romanticism in the 19th century.
Because of the popularity of Beethoven's 32 piano sonatas, concert series featuring them have become somewhat common. Groups of musicians or soloists have produced concert series where the sonatas are performed chronologically or grouped by other various criteria.
This two-hour concert, inspired by these marathon concerts, will let the audience sample Beethoven's monumental achievements within the piano sonatas. Join us for this special opportunity and experience.