UTSA, UTHSC researchers named finalists for UT System chancellor's award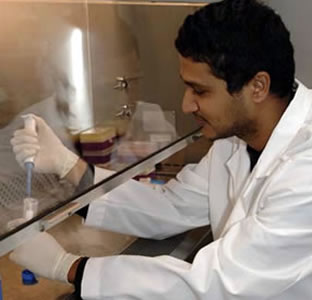 Share this Story
(April 13, 2010)--For research which led to a licensing agreement with Merck and Company to develop a chlamydia vaccine, Bernard Arulanandam, UTSA professor of microbiology and immunology; Ashlesh Murthy, Ph.D. '06, UTSA research assistant professor; and Guangming Zhong, M.D., UT Health Science Center and San Antonio professor of microbiology and immunology, were named one of three finalist groups in the University of Texas System Chancellor's Entrepreneurship and Innovation Awards program. The three groups of finalists were honored last month in Arlington, Texas.
"Doctors Murthy, Zhong and I were very humbled when we learned we were finalists in the Chancellor's Entrepreneurship and Innovation Awards program," said Arulanandam, who with Murthy belongs to the UTSA South Texas Center for Emerging Infectious Diseases. "We have been working for years in the laboratory to develop an effective vaccine candidate to prevent chlamydia infections. It means so much to us to be recognized for our efforts."
"This kind of recognition and encouragement goes a long way in motivating young faculty to achieve excellence," said Murthy.
Caused by the bacterium Chlamydia trachomatis, chlamydia is the most frequently reported sexually transmitted disease in the United States. According to the Centers for Disease Control and Prevention, nearly 2.3 million people between ages 14 and 39 are infected with the bacterium, which can lead to pelvic inflammatory disease, ectopic pregnancy, serious complications for newborn infants and infertility.
South Texas Technology Management (STTM), UTSA and UTHSC nominated Arulanandam, Murthy and Zhong for the UT System chancellor's award to recognize their collaborative research, which demonstrates that a vaccine composed of a select group of recombinant C. trachomatis antigens can accelerate clearance of genital chlamydial infections and preserve female reproductive function in animals.