UTSA Earth Week events offer tips for living greener lives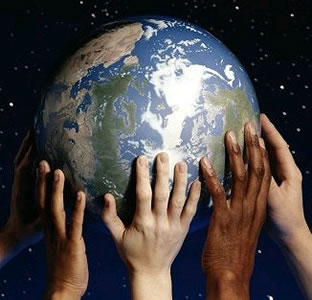 Share this Story
(April 15, 2010)--The UTSA community is invited to celebrate UTSA Earth Week April 19-23 with a range of informative and fun events about how to live "green" and sustainably.
Most events will be in the University Center 11 a.m.-1 p.m., April 20-22 with events also at the Downtown Campus.
>> Download the UTSA Earth Week events schedule at the University Center Web site.
The highlight of the week will be the Earth Week Info Fair from 11 a.m. to 1 p.m., Thursday, April 22 in the University Center main corridor adjacent to the bookstore. More than 30 UTSA and community organizations will share information on sustainability, recycling, and water and energy conservation. There will be music, food, giveaways and fun for everyone.
Other fair highlights will be:
Fuel-efficient cars will be on display on the UC paseo with a DJ and music.
Fair visitors who get a stamp at 10 tables can turn in their cards at the UC Information Center for a free UTSA Earth Week organic cotton t-shirt with a UTSA student design.
"bEarthday" cupcake from ARAMARK and sample heirloom and traditionally grown cherry tomatoes while supplies last
San Antonio Parks and Recreation will give away 100 one-gallon tree saplings.
Recycle batteries, cell phones and toner cartridges at special recycling bins.
UTSA Earth Week formerly was an Earth Day celebration sponsored by the UTSA Department of Environmental Health, Safety and Risk Management (EHSRM) and the Green Society, a registered student organization.
"We very much enjoy bringing the Earth Day message to the campus community," said Richard Garza, UTSA environmental construction and safety manager. "We are even more pleased to join with so many new partners this year to bring the celebration to the University Center."
"We hope all of campus comes by for the fun and information that will be a part of our first-ever Earth Week celebration," said UC Director Lowa Mwilambwe.
This event sponsors include ARAMARK, University Center, UTSA Student Government Association, The Green Society and EHSRM, among others. Read more about ARAMARK's commitment to the environment at the Green Thread Web site.
------------------------------
UTSA Earth Week highlights
Go Green Pledge, 11 a.m.-1 p.m., Monday, April 19, University Center food court : Stop by and make a pledge to go green. The display will move to other UTSA dining areas throughout the week. Here's how you can help with earth-saving activities: recycle, turn off lights, compost, use less water, use public transportation and eat sustainable foods. (Go Green Pledge table also will be at the John Peace Library food court, 11 a.m.-1 p.m., Wednesday, April 21.)
Weigh the Waste, 5:30-7:30 p.m., Monday, April 19, Roadrunner Cafe: The final round of UTSA's semester-long waste reduction competition wiht Southern Methodist University. Students from the UTSA Green Society will be on hand to measure the waste in UTSA's effort to get the least amount of waste per person.
Go Green Brown Bag Lectures, noon, April 20-21: The 30-minute lectures at the UC will feature experts speaking on: Green Jobs and You, Working Together = Green, UTSA Student Green Fund and Solar-Powered Roadrunners: Bringing Solar Power to UTSA.
Free Midday Matinee: "WALL-E," noon, April 21: Take a break while you eat your lunch and enjoy free popcorn in a reusable cup with a free screening of the animated favorite "WALL-E" in the University Center Denman Room (2.01.28). The popular film is about a small waste-collecting robot in the distant future that inadvertently embarks on a space journey that will ultimately decide the fate of mankind.
Downtown Campus events:
Go Green Pledge: 11 a.m.-1 p.m., Wednesday, April 21, Frio Street Building commons
Free screening: "WALL-E" -- 3 p.m., Thursday, April 22, Durango Building Student Activities Center