UTSA hosts 'Fiesta Under the Stars De Colores: Performing Songs of Color'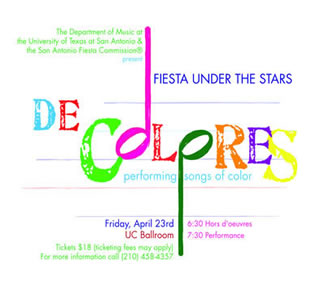 Share this Story
By Kris Rodriguez
Public Affairs Specialist
(April 19, 2010)--The UTSA Department of Music will host its 25th annual official Fiesta event, "Fiesta Under the Stars: De Colores: Performing Songs of Color" from 6:30 to 9 p.m., Friday, April 23 in the University Center Ballroom (1.106) on the UTSA Main Campus. The fundraising dinner benefiting music scholarships features UTSA Department of Music faculty and students performing pieces from musicals
This year's theme, "De Colores: Performing Songs of Color," will feature student ensembles and faculty performing a variety of songs as broad as the color spectrum. Musical selections will have either the word "color" or the names of colors in the titles.
Scheduled performances include:
"Rhapsody in Blue," UTSA piano faculty member Kasandra Keeling and the UTSA Orchestra
"It Ain't Easy Bein' Green," UTSA Women's Choir
"Color My World," UTSA Concert Choir
"The Theme from The Pink Panther," UTSA Flute Ensemble
"Colors of the Wind" from the movie "Pocahantas," UTSA vocal faculty member Catherine Nix
"Green Finch and Linnet Bird" from the musical "Sweeney Todd," UTSA vocal faculty member Linda Poetschke
"Yellow Rose of Texas" and "Red River Valley," audience sing-along
"Over the Rainbow," featuring a choreographed dance performance
The event begins at 6:30 p.m. with hors d'oeuvres. The musical performance begins at 7:30 p.m. All seating is open and for tables of 10.
Tickets are $18 (ticketing fees may apply). Advance tickets are available online at the Fiesta Under The Stars website or by calling Naomy Ybarra at 210-458-4357