Graduate Student Project Competition winners announced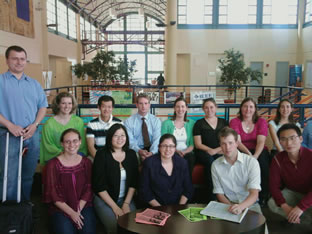 Share this Story
(April 22,2010)--The first UTSA Graduate Student Appreciation Week April 5-9 included the second annual Graduate Student Project Competition sponsored by the Graduate Student Association (GSA), The Graduate School and the Teaching and Learning Center. There were 30 participants in four categories: Science and Engineering, Social Sciences, Humanities and Creative Works.
The goal of the week and the competition is to recognize the value of UTSA graduate students. Participants were recognized for their projects at an April 9 awards ceremony, which included presentation of two People's Choice Awards.
"The Graduate Student Association thanks everyone who participated and helped to make both the competition and the week such a success, and we look forward to next year's event," said Carla Pezzia, GSA president and anthropology doctoral student.
For more information about the competition and how to get involved in GSA, e-mail Carla Pezzia, or John Shaffer, GSA adviser.
------------------------------
Graduate Student Project Competition awardees
Science and Engineering
Distinguished: Valerie Grover, Civil and Environmental Engineering
Outstanding: Jinxuan Hu, Civil and Environmental Engineering
Outstanding: Carolina Contreras, Civil and Environmental Engineering
Honorable Mention: Annette Rodriguez, Cell and Molecular Biology
Honorable Mention: Karen Engates, Civil and Environmental Engineering
Social Sciences
Distinguished: Ryan Sprott, Educational Leadership
Outstanding: Lydia Overbaugh, Anthropology
Outstanding: Kyle Kozlovsky, Sociology
Honorable Mention: Jennifer Roth, Demography
Honorable Mention: Angela Urick, Educational Leadership
Humanities
Distinguished: Sarah Compton, Bicultural and Bilingual Studies
Outstanding: Neda Ramirez, Bicultural and Bilingual Studies
Creative Works
Distinguished: Rebecca Gomez, Art History
Outstanding: Aaron Carter-Cohn, Music
People's Choice Award
Ryan Sprott, Educational Leadership
Lynn Kim, Anthropology