UTSA psychologist Brenda Hannon studies learning skills in pre-readers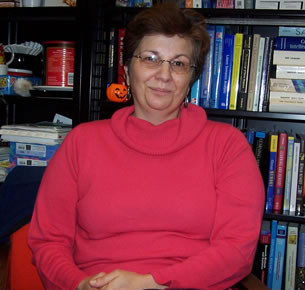 Share this Story
(April 28, 2010)--How do pre-reading children use cognitive thinking skills and word skills to understand spoken text? That's the mystery Brenda Hannon, UTSA assistant professor of psychology, is trying to solve.
"There are no good tools to identify if a young child is going to have problems learning and reading, so I'm working on developing, testing and comparing measures that would help make that determination," said Hannon.
Hannon is working with children and parents in the UTSA community. The kids spend two hours in a lab on the UTSA Main Campus viewing animated pictures and listening to various texts. The children are tested for their understanding of the pictures, auditory text and auditory words. The children also are asked to compare similarities and differences between images, and a researcher records the data.
According to Hannon, the children's prior knowledge from memory is tested and their deductive and inductive reasoning skills also are being tested when new information is presented in some of the tasks.
When the study is over, both children and parents leave in good spirits. Kids receive a $10 package that consists of toys such as coloring books, puzzles and bubbles. Parents are given a gift card to Barnes and Noble.
More volunteers are needed. Requirements call for children to be four to six years of age, free of known learning disabilities and predominantly English speaking. Children must be accompanied by a parent or adult.
For more information, contact Brenda Hannon at 210-458-7479.